VIDEO | Amy Zimmer plans to "Dance for Ethan" in Dance for a Difference Gala 2017
April 25, 2017 – Washington Co., WI –  Please don't brush this off as "just" another fundraiser…
On May 12 a dozen dancers from Washington County will meet to show off their tangos, two steps and fox trots as they raise funds for Citizen Advocates of Washington County.
"Citizen Advocates is basically are Big Brothers Big Sisters for adults and children with special needs," said Amy Zimmer, a dancer from Cedar Creek who will be high stepping for her stepson Ethan.
"Everyone needs companionship," she said. "At times it is very hard watching Ethan, 16, who is being prevented from doing things because he is 'unique.'"
Zimmer penned the note below:
Do you Remember what it felt like to be the last one picked in gym class or not receiving the invite to a party you really wanted to attend?  That feeling is gut wrenching…I am so proud to support this organization and the work they do to make everyone feel like they fit in.

Mental illness is growing at an alarming rate.  It's up to us to do our part to make others feel more accepted.

I am competing in the Dancing for a Difference Gala – a competition that is very much like Dancing With the Stars.  There are two ways for me to win.

First of course is to be the best dancer out of 12 who are competing and I'm working on that.

There is a second trophy too – the People's Choice Award.  I am looking for your votes.  They can be purchased for $10 each at the following link – click HERE.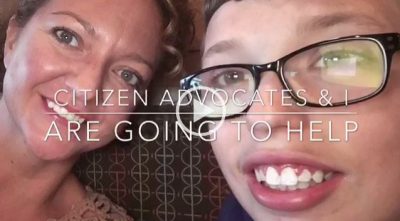 Zimmer continues, "If you purchase your votes between April 24 and April 28 it counts as double! 

So $10 = 2 votes and $100 counts as 20!

Please take the time and click the above link and follow the prompts to vote TODAY before the BOGO runs out!

Or if you would like to donate via check or cash:

I can come and pick it up from you.
Visit with Amy Zimmer at Dublin's on Wednesday, April 26 from 5 p.m. -8 p.m.
Visit at Bibinger's on Thursday, April 27 from 5 p.m. – 8 p.m.

Or just send a check to Amy :

Amy Zimmer
% CA of Wash Co
3855 County Road C
West Bend, WI 53095
WANT TO SEE MY DRESS???  I am trying to decide between two dresses – come to the restaurants on the above nights – I will be wearing them so you can give me your opinion on which one to wear!

You should come to the dance?  There are a few tables left and tickets are going FAST!  It is being held May 12 starting at 5 p.m.  Let me know that you are coming to support Team Zimmer!  You can purchase tickets at the above link as well.

If you have ANY questions please feel free to reach out to me at 262-339-4355

Amy Zimmer