Dedicating the new bridge in Allenton | By Ron Naab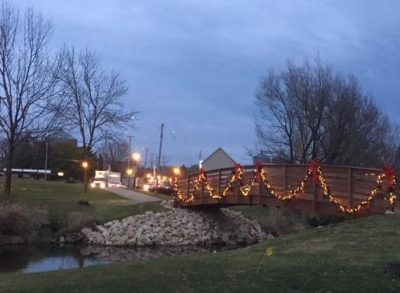 Nov. 9, 2017 – Allenton, WI – The Allenton Area Advancement Association and the Town of Addison celebrated a unique event for the Allenton area, dedicating a new pedestrian bridge over the Rock River on the western edge of Allenton.
The original steel-framed bridge with wooden planks was constructed in 1896 and was the only access into Allenton from the west.
Apparently the Rock River followed a different path at the time and this was the convenient place for early settlers to establish the bridge.  In 1920 a new concrete bridge was built to the north of the steel bridge; that bridge then became the main entrance to Allenton when traveling on WI-33.
In 1973, the steel bridge was found to be unsafe for vehicle traffic and it served as a walking bridge.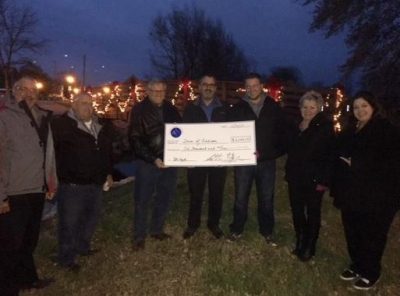 The steel bridge became a part of the Rock River Drive allowing access to that area.  After a few years of working to accumulate funds the town removed the old bridge replaced it with a wood-constructed bridge.
Town Chairman Bob Bingen said the project cost $45,000.
On Friday evening Allenton Area Advancement Association President Scott Ritger present a $6,000 check to help cover the cost of the bridge.
The AAAA also installed Christmas boughs and lights for the upcoming Christmas season.
There is discussion to create a walking path along the Rock River extending to Rock River at County Road W.