January 21, 2022 – Slinger, WI – Last year, the Wisconsin State Assembly remained committed to protecting the unborn by voting on a host of pro-life bills. The pro-life legislative package was released in the fall of 2021 and contained a number of policies that are essential to defending life.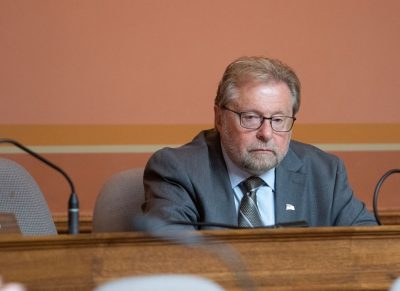 With states like New York signing bills into law that allow abortion up to birth, we must show that our commitment to the unborn is unwavering and more steadfast than ever before.
Among the bills we passed was Assembly Bill 6. AB 6 is also known as the Born Alive Act. The bill requires any provider present at the time of a failed abortion to exercise the same level of professional care to the surviving child as they would to any other child delivered. Every baby is entitled to emergency medical care regardless of their path to birth.
The most important bill I voted for was the Shield the Vulnerable Act, Assembly Bill 595. This bill bans abortions from being performed solely due to the race, color, national origin, ancestry, sex, or diagnosis of a congenital disability of the unborn child. Deciding who deserves life based on these characteristics is discriminatory and needs to be prevented.
Meanwhile, some states have expanded abortion by following the 1973 Roe v. Wade decision or going even further. For example, New York's so-called "Reproductive Health Act" legalizes abortion up until a fetus is viable (typically about 24 weeks of gestation) – the line drawn by Roe – but it also codifies Doe v. Bolton, which was decided on the same day as Roe and upheld abortions performed after viability for a host of reasons, which all fall under the umbrella of "health."
"Health," as is defined in New York's law, is stunningly broad and has the potential to be ripe for abuse. Abortion should never be considered as birth control, yet this carve out enables it to be used as such.
While I am certainly not surprised Governor Evers vetoed AB 6 and AB 595, as he is bought and paid for by Planned Parenthood and the abortion lobby, I was certainly not expecting him to okay discriminatory practices in deciding abortions.
This is the unfortunate but unmistakable message he sent by vetoing AB 595.
Former President Ronald Reagan said it best; "I've noticed that everybody who is for abortion has already been born." While we look sadly upon the 49th Anniversary of Roe, I am optimistic for the future of this and other legislation.
I am proud of my pro-life stances and proud to support the individuals who marched in Washington DC during the annual March for Life. Being pro-life is one of the chief reasons I enjoy representing the 58th Assembly District in Madison.
Rick Gundrum is an Assembly Representative in District 58.
Disclaimer: Opinions and letters published in https://www.washingtoncountyinsider.com are not necessarily the views of the Editor, or Publisher. The https://www.washingtoncountyinsider.com reserves the right to edit or omit copy, in accordance with newspaper policies. Letters to the Editor must be attributed with a name, address and contact phone number – names and town of origin will be printed, or may be withheld at the Editor's discretion. During the course of any election campaign, letters to the editor dealing with election issues or similar material must contain the author's name and street address (not PO Box) for publication.
Please also note:
COMMENTING
WCI COMMENTING RULES OF ETIQUETTE: While open and honest debate is encouraged here, Washington County Insider asks that you comply with the following rules for posting. Those who do not comply will have their posts removed and may result in being banned from commenting.
In an effort to provide a great experience and be welcoming to everyone, Washington County Insider will not publish comments and reserves the right to remove posts on social media/Facebook that don't adhere to the guidelines below.
Are considered likely to provoke, attack or offend others. This is known as "trolling." Trollers know when they are trolling, and so do we. *See definition of "troll" below. If you notice a few consistent blog trolls disappear, you'll know why.
Are sexually explicit, abusive or otherwise objectionable.
Contains inappropriate or vulgar language that is likely to offend.
Break the law or condone or encourage unlawful activity. This includes breach of copyright, defamation and contempt of court.
Advertise products or services for profit.
Are seen to impersonate someone else.
Repeatedly post the same or similar messages ('spam')
Include personal contact details such as telephone numbers and postal or email addresses.
Include a link or photo that has not been approved by the editor prior to posting.
Are considered campaigning. See also "trolling" above.
Are unrelated to the topic.
NOTES:
Just because your comment doesn't show up right away doesn't mean you're being censored. When you post a comment it must first go through our filtering software. If it fails, your comment goes into a queue for manual approval.
Just because a comment or advertisement is on the site, doesn't mean WCI endorses it.
The above rules are not intended to stop criticism or dissenters, but rather to stop those who are incapable of participating in a civilized manner.
*Trolling: a troll is a person who sows discord on the Internet by starting arguments or upsetting people, by posting inflammatory,[1] extraneous, or off-topic messages in an online community (such as a newsgroup, forum, chat room, or blog) with the intent of provoking readrs into an emotional response[2] or of otherwise disrupting normal, on-topic discussion,[3] often for the troll's amusement. (source: Wikipedia)