Delta Defense named Business of the Year 2015 in WB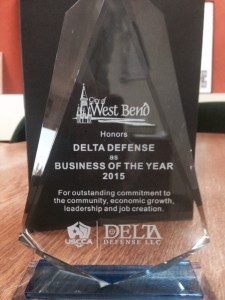 Delta Defense has been named the Business of the Year 2015 in the city of West Bend. Tim and Tonnie Schmidt were presented the award this week for their outstanding commitment to the community, economic growth, leadership and job creation.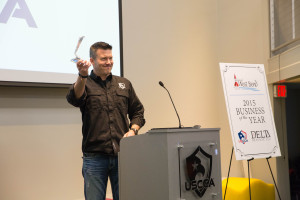 Over the past few years Delta Defense has quickly grown as a thriving business, solid employer and dedicated community servant.
Delta Defense was recognized for its 110,000 active members and more than 70 employees. "In three years in this position I've only lost three employees," said human resources director Cynthia Wade Zimmer.
Delta Defense has been named to the Inc. 5000 list of America's Fastest Growing Companies.
Delta will be moving into a new state-of-the-art headquarters in West Bend Corporate Center.
Delta Defense is strongly committed to supporting the community and area non-for-profit organizations. Delta Defense works to donate 3 percent of its annual sales to the community.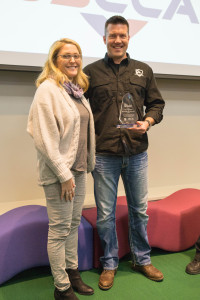 Volunteer Center of Washington County, the Downtown West Bend Banner Art Walk, and the Amazing Ride for Alzheimer's.
"Being selected as the Business of the Year makes me feel proud and appreciated and it validates everything I know about West Bend," said CEO and President Tim Schmidt.
This is the second year the award has been presented in West Bend; the inaugural recipient of the award was West Bend Mutual in 2014.
"For organizations like West Bend Mutual and Delta Defense to decide West Bend is going to be the place where they grow their business, that has a big impact on this community," Mayor Kraig Sadownikow said.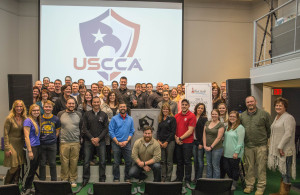 "It also makes a difference when their employees live and invest their time and energy in this community, that makes a big impression on West Bend."
Sadownikow said the impression of West Bend used to be it was a challenging place to do business.  "In the last five years we've worked to change that and improve our customer service and I'm hoping we can attract a dozen more businesses like Delta Defense or West Bend Mutual," he said.
To see Tim Schmidt's acceptance speech where he compares his company to "making sausage" click here.
Photos courtesy Scott Gara