Gazebo at Old Settlers' Park near completion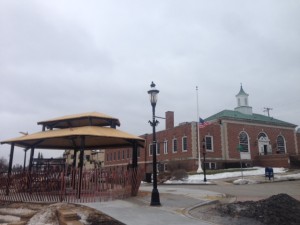 A stiff wind Friday tests the flag at the U.S. Post Office on Elm Street in West Bend. The flag is at half staff for Supreme Court Justice Antonin Scalia who died last week Saturday.
Today Scalia will be celebrated at a funeral Mass in the Basilica of the National Shrine of the Immaculate Conception, followed by a private burial.
In West Bend the new gazebo at Old Settlers' Park is near completed. A ribbon cutting and dedication will be held for the unveiling of the new addition to the park during the opening of the 2016 Music on Main.
The first concert will be June 2. More information is at Downtown West Bend Association.