Despite fog and rain, Slinger Owls are the reigning champs | By Ron Naab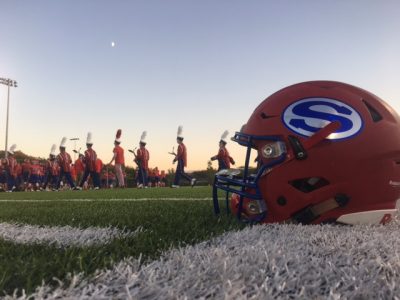 Oct. 7, 2017 – Slinger, WI – On Friday evening the Slinger Owls varsity football team traveled to Grafton to take on the Blackhawks.  The night started with a mist of precipitation, which turned to fog and then rain and back to fog. However despite the weather the Owls stayed focused on their game plan.
On the first possession for Slinger, Jason Klink ran a 20-yard play in for a touchdown; Devon Mason's Point After Try [PAT] was good.
Later, Tyler Evans made a 37-yard pass to Mac Stoffel for a touchdown and Mason's PAT was good.  With the 5:38 remaining in the half, Klink picked up another 10-yard run for a touchdown, but weather hindered Mason's PAT which was unsuccessful.
With 30 seconds left, Grafton scored on a 4-yard run, the point after was good, PAT was good.  At the end of the first half the score was Slinger 20 to Grafton's 7.
The weather played a major factor the rest of the game and there was no scoring in the third quarter.
With 8:10 remaining in the game Slinger's quarterback, Tyler Evans scored on an 8-yard scamper. Slinger attempted a 2-point conversion, however between the weather, a penalty, and a good defensive stand by the Blackhawks, it failed.
Final score was Slinger 26 to Grafton's 7.
Hartford Orioles fell victim to Homestead 27 to 10.  The loss puts Hartford tied in third place with Slinger.
Next Friday is Senior Night and SHS Band Night, which will be started by a fish fry hosted by the Slinger Band Parents.
Slinger will end the season against second place Homestead.