Diamond Dash check presentation to Enchantment in the Park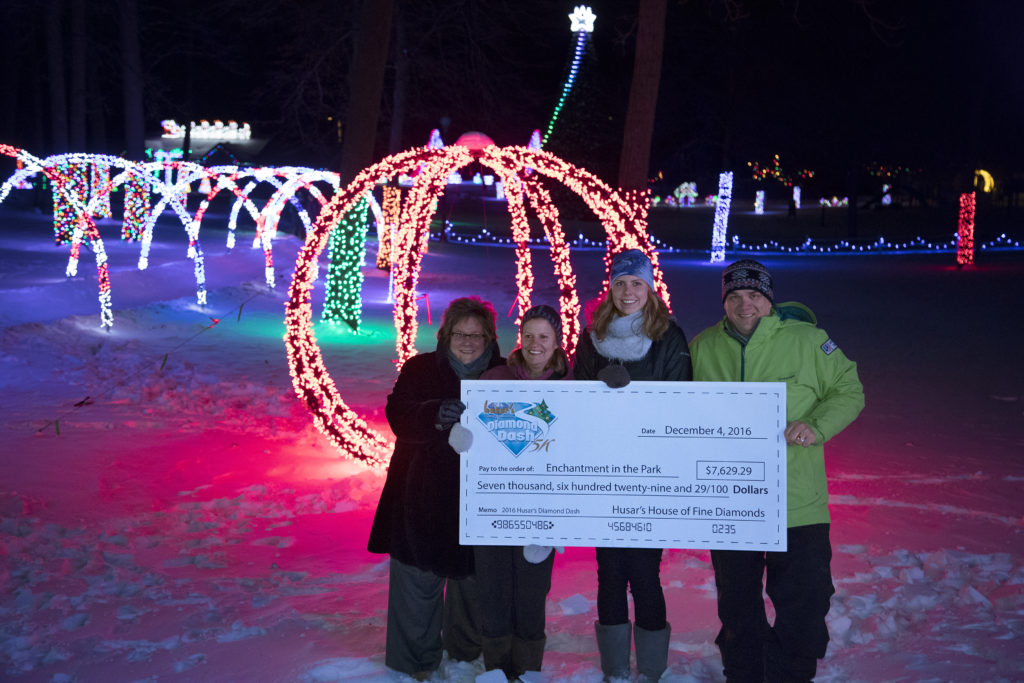 Dec. 23, 2016 – West Bend, WI – A nice check presentation this week as proceeds from the 2nd annual Diamond Dash were presented to Lori Yahr and Enchantment in the Park.
This year the Diamond Dash raised $7,629.29 which was a healthy increase over the $5,100 raised during the inaugural event in 2015.
Earlier this month more than 370 runners and walkers enjoyed a dash through the more than 500,000 Christmas lights. The first light snow of the season made for a brilliant atmosphere.
There were quite a few runners that came dressed in Christmas spirit with red Santa hats and beards or donning jingle bells and reindeer antlers.
Sixteen-year-old Luke Guttormson from West Bend West High School ran the 3.1 mile course in 16 minutes and 55 seconds. That was slightly behind the time from the first year when Tim Zellmer, 23, from Elm Grove finished in 15:37.
Monica Schaefer, 29, of Adell was the first female finisher; she crossed in 21 minutes and 21 seconds. In 2015 Sue Miller from West Bend finished with a time of 19:23.
Money raised goes to Enchantment in the Park.
Photo courtesy Husar's House of Fine Diamonds