Down to the wire for WBW Spartans vs. Kettle Moraine Lutheran boys basketball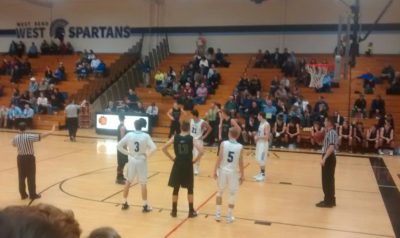 Dec. 6, 2016 – West Bend, WI – The West Bend West Spartans rode a second-half surge to steal a victory from Kettle Moraine Lutheran on Tuesday night.
After an even first half, the Chargers built a 39-26 lead on the back of 13 points and several key rebounds from junior Zachary Zuleger.
But with 8 minutes remaining in the game, the Spartans took control, causing numerous turnovers with an aggressive full-court press and scoring 15 unanswered points to take a 41-39 lead with just over a minute to play.
With the clock winding down, KML did all it could to retake the lead, but the Spartan defense stood strong.
Clutch free throw shooting from West Bend put the game on ice, giving the Spartans a 47-41 victory over their local rivals.
West is now a perfect 3-0 on the season, and will try to extend its unbeaten streak at Slinger on Friday.
With the loss, KML falls to 1-2, and looks to get back on track Friday at home against defending state champions Waupun.