Downtown West Bend Theatre receives $250,000 donation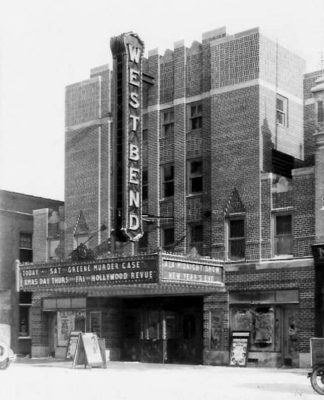 Nov. 5, 2018 – West Bend, WI – Historic West Bend Theatre Inc. (HWBT) thanked the National Exchange Bank Foundation and the Barbara & Peter Stone Family Foundation for making a lead donation of $250,000 for the restoration of the iconic 1929 theatre in downtown West Bend.
"These lead gifts are essential for getting big projects off the ground, and these two foundations did just that with commitments of $125,000 from each foundation to our $3 million project," said Nic Novaczyk, HWBT president. "We have lift-off and are now on a flight path to begin the restoration work in early 2019."
The first visible sign of the restoration will happen shortly when Poblocki Sign Company takes down the perimeter-lit "West Bend" sign (the blade) and parts of the marquee so its refurbishment can begin. It is expected to go back up in mid-2019.
Adam Stone, a director for both foundations, said, "The National Exchange Bank Foundation contributes to strategic initiatives that improve the communities we serve in Wisconsin. We believe in 'paying it forward.'"
He added, "The renovation of the theatre as a multi-purpose venue for the performing arts and community gatherings will make the downtown jump with new life. It is an excellent piece of economic development."
Dolf De Ceuster, Vice President of Commercial Lending at the National Exchange Bank & Trust West Bend location, said the community enthusiasm for the theatre project has been heart warming and played a role in his decision to refer the Theatre to the foundations to request a lead gift. "There has been an out-pouring of support for bringing the old theatre alive again. Many people have fond memories of going there for movies as children."
The art-deco theatre was erected in 1929 for vaudeville acts and silent moves and went dark in 2006. "Talkie" movies were introduced in1936. Matt Prescott stepped in to save the building in 2012 and sold it to the HWBT non-profit corporation in 2017.