Washington County, WI – A month-long drug investigation by the Washington County Sheriff's Office Multi-Jurisdictional Drug Task Force culminated yesterday with two search warrants being conducted by the drug task force, the City of Hartford Police Department, and other Washington County Sheriff's investigators.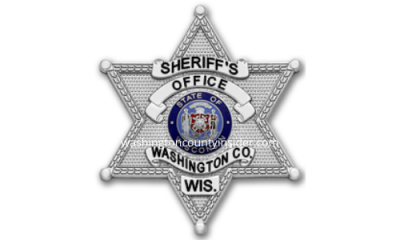 The first was at a residence on Court Drive in the City of Hartford and the second was at a storage facility in the Town of Polk. Authorities found cocaine, methamphetamine and drug paraphernalia during the searches. A 38-year-old City of Hartford woman is now in custody. Her 31-year-old brother was also arrested during the execution of the search warrant on outstanding felony warrants unrelated to the investigation after he attempted to flee the residence.
Click HERE to SUBSCRIBE to FREE local news at
The residence in question has been a nuisance property for neighbors in the City of Hartford for some time. Citizens have complained about suspected drug dealing and other issues going on at the house. The Drug Task Force opened an investigation into suspected drug dealing in early June.
An undercover deputy was able to purchase cocaine and methamphetamine at the residence from the suspect. During the first drug transaction, the suspect asked the undercover officer to feed her 20-month-old child french fries while she packaged the drugs in another room. Based on the discovery of the child in a dangerous and unfit home environment, the case became a priority for investigators. The child was along for a second drug deal that occurred out of the suspect's car.
On June 22, 2022 investigators conducted a traffic stop on the suspect after she left her house with her child. She was taken into custody. She was found by corrections officers during the intake process to have cocaine concealed on her person. The child was taken into protective custody from the traffic stop by Washington County Human Services and immediately taken to a medical facility to be checked out and eventually placed in foster care.
Washington County Sheriff Martin Schulteis said, "The coordinated response to drug endangered children is a cooperative effort between local Washington County stakeholders. We have been working closely together with our partners to establish uniform response guidelines to drug endangered children which allow us to respond efficiently and effectively to ensure children are taken out of these life-threatening situations. It is unconscionable to think that a parent would leave a small child unattended with a stranger who is in the house to purchase drugs."
The 38-year-old City of Hartford woman now faces multiple charges related to the delivery and possession of cocaine, methamphetamine, drug paraphernalia, and child neglect. The Washington County Sheriff's office would like to extend its appreciation to the citizens who came forward with this information as well as all of our assisting community partners who collaborated to bring this to a successful conclusion. They also want to extend their appreciation to the drug task force for being able to put this case together in such efficient and effective manner so that the child could be removed from a potentially deadly situation.