Eagle Scout praised for adding kiosk to Eisenbahn Trail
Spencer Weinandt, 17, received some nice recognition from the West Bend Common Council this week. Weinandt built an informational kiosk for his Eagle Scout project.
The kiosk is on the Eisenbahn State Trail just to the south of East Water Street, across from Dublin's restaurant.
Weinandt is part of Troop 762, Moose Lodge. He's been in scouts 13 years and said he's learned about leadership and developing as a person.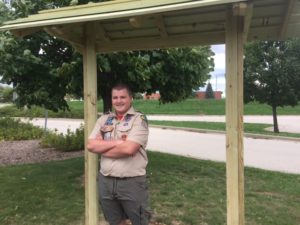 Part of the project included gathering supplies and soliciting donations. Weinandt received support from Toucan Custard, Knights of Columbus, Mountain Outfitters and the History Center of Washington County.
Weinandt has donated the kiosk to the city; it will be maintained by the Parks Department.