West Bend HS students weigh in on presidential debate
Mark Drake, West Bend West High School Social Studies Teacher and Faculty Advisor for West Bend Model United Nations and Mock Trial teams held a presidential debate viewing party at King Pin Bowl on Monday. Drake posted his review of the debate below, followed by submissions from his students. The reviewers were not asked their political opinion, they were asked to review the debate.

Mark Drake: My biggest takeaway from Monday night's debate was the immense pride I felt sharing it with 30 high school students who voluntarily came and watched intently as if their future depends on the outcome of this race – and they're correct.  This election will shape America for years to come.  Participatory democracy has its roots in nights like this, and it leads to greater action – joining parties, volunteering with interest groups, and voting.  I'm also grateful to supportive parents who share their time, resources and views with their students tonight and every night.
Our class is focused on connections – to the Constitution and to people.  Which candidate made the stronger connection to the American people tonight?  I don't think you can declare a definitive winner coming out of tonight's debate.  I think both candidates did what was required of them to stay the course, but I don't see either candidate gaining a large amount of ground with the electorate.  Some undecided voters might have chosen their candidate tonight, but I think just as many remain unmoved.  Perhaps they'll decide after the next debate, or simply tune out.
The candidates have work ahead.  They must sharpen their attacks, shorten their statements, clarify their policy proposals and directly confront the opposition.  This could get uglier before the end, but given how the primary races went, perhaps that's what the American people want.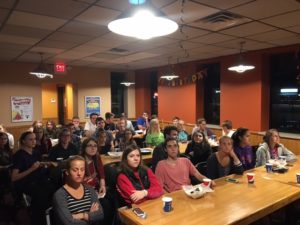 Rebecca Ann Virchow, 18, senior at West Bend East High School: At their cores, both Presidential Nominees Donald Trump and Hillary Clinton want the same thing: to be the change America has been searching for. Each nominee wishes to appeal to  the hearts and minds of voters through the image they project in debates.
In order to convince voters in this debate, each candidate emphasized personal, appealing and relatable aspects of themselves to promote their policies. Republican nomination Donald Trump, throughout the debate, continually portrays himself as an experienced and savvy businessman who understands how businesses and the economy run. His quick pace and emotional, pointed attacks emphasize his views about tightening immigration policy while loosening regulations in order to promote corporate business expansion in America in order to create jobs (in contrast to their outsourcing labor since the 1980s) and therefore build the economy.
The Democratic nomination Hillary Clinton, in contrast to Donald Trump, presents herself as an experienced diplomat born from the hard-working middle-class America. She calls for tighter gun-control policy in order to protect the community, and wants to invest in the working middle-class by raising taxes on the wealthy, upper-class members of society. Both candidates seem willing to discuss their own individual policies, but which will prevail in the end? Only after Americans have cast their votes will America finally have its answer.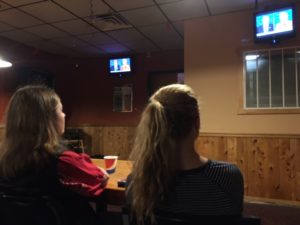 Matthew Iverson is a junior at West Bend West: The Presidential Debate on September 26 was very evenly matched between the two candidates, both Hillary Clinton and Donald Trump were strong and confident in their more experienced categories.
Mr. Trump was very confident and expressed his knowledge when speaking about the economy, while Secretary Clinton showed her strength and experience about foreign affairs.  Both Mr. Trump and Secretary Clinton had moments where they seemed to disagree with the standard conservative and liberal beliefs to appeal to the more moderate and independent voters.
One difference I noticed between the candidates was how they presented themselves compared to the primary debates.  For example, Mr. Trump seemed more presidential than he did during the primaries, he was very clear in his answers and did not attack Secretary Clinton nearly as much as he had attacked some of the other Republican candidates.  Secretary Clinton, on the other hand, was more hostile and spent a lot of time attacking Mr. Trump than she had attacked Bernie Sanders in the primaries.  The way Secretary Clinton presented herself at this debate reminded me of how Mr. Trump was in the Republican Primaries.  The first Presidential Debate of 2016 showed comparable strategies between the two campaigns, and set the stage for two more exciting Presidential Debates.
Lindsay Keller: During the debate Trump was taking on an aggressive role, where Clinton held a calm and collective role. Both of the candidates used emotional appeal. With Clinton it was her granddaughter and her late father, for Trump it was his son. Trump states multiple times through out the debate that he agrees with Clinton but she didn't say that she agrees with him once. Everyone will be observing them for their upcoming actions and comments.
Hayden Kolowrat, junior at West Bend West: The presidential debate went well for both candidates; both candidates did a good job answering their questions and supporting them without being too reckless or hateful towards each other which is more than a lot of people excepted. I thought it was respectful of them to wear the opposing parties' colors for the debate; however that's about as far as the respect went. Both candidates spent a lot of time not fighting the issue but fighting the person. They were more concerned of making the other look bad than actually explain their stances on issues. My peers and I were using online fact checking sources throughout the debate to separate the lies and trues, and from this we found Mr. Trump was incorrect more often than Secretary Clinton however Trump made up for this with ruthlessness and aggression. It also seemed that the moderator more often fought with Trump than Clinton. Whether this was due to bias from the moderator or just incorrectness from the candidate, I'm not sure but it was probably a little of both. Overall, it was good debate. I enjoyed hearing what the candidates had to say and I was glad to be surrounded by friends who wanted to do the same. Politics can be hard to understand, but when teens like us get interested in it now, it only will lead to more informed and active voters in the future. That's what's really important.