October 10, 2022 – Village of Richfield – At 4:25 a.m. the Washington County Sheriff's Office responded to a home in the Village of Richfield for trespassing to dwelling complaint. The complainant indicated he woke up to sounds that he described as "feet shuffling on the floor" originating from the main floor of the residence.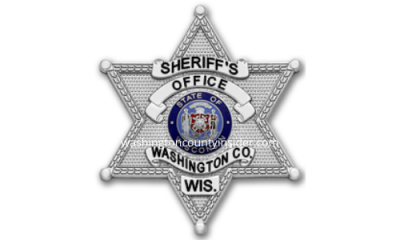 The complainant was on the second floor of his home with his wife and 8-year-old child. The caller told dispatchers he had armed himself with a knife to protect his family after hearing the noises. As deputies responded, the caller indicated he could now hear voices downstairs.
Responding deputies set up a perimeter on the home and observed a subject on the main floor in the kitchen area of the home. Deputies immediately made entry into the residence when they observed the suspect moving towards the upstairs stairway.
A 39-year-old Hubertus man was taken into custody without incident and was taken to the Washington County Jail on charges of trespass to dwelling.