June 28, 2021 – Eileen A. Schleif (nee Rice) passed away June 23, 2021 at her home with her family at her side. She was born July 26, 1957, to Frank and Marianna Rice and was preceded by both parent as well as many other aunts, uncles and other relatives.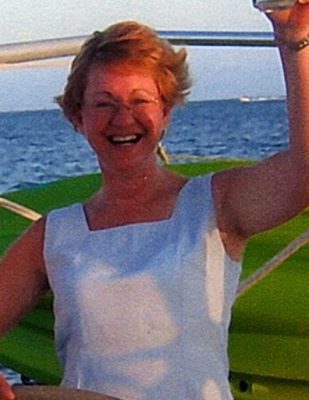 She is survived by her Husband of 39 years, Mike, daughter Jean, her grandson Kameron, brother Michael, sister Cecilia, niece Jessie other relatives and myriad of loving friends.
Eileen was known and loved by many. She brought a shining light into countless lives, always full of hope and good cheer. She worked for 28 years at Serigraph Sales in West Bend and finished her working career at Fleet Farm in West Bend, wearing many different hats during that time, especially enjoying her time in the Garden Center.
At home she enjoyed working in her gardens as much as possible. She liked a good poker game and even though she didn't always win, it seemed like it. Trap shooting was a great pleasure for her for many years and she has plenty of trophies to show for it. When the shooting slowed, she helped as league secretary for many years. She really enjoyed hosting outdoor Packer game parties in the driveway in December with big screen TV's and bleachers included.
Wherever Eileen went she made new and lasting friendships. She will be forever missed by her husband and daughter and will always be with us in our hearts.
She was also Mike's lifelong best friend. And will remain so forever.
There will be no formal services at this time.
The family would like to thank Froedtert and Kathy Hospice/Horizon for their compassionate, professional, guidance and care through this difficult time. You folks are true angels.

Phillip Funeral Home of West Bend is assisting the family.