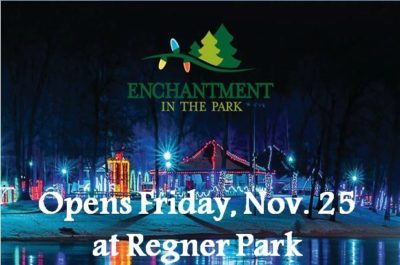 Nov. 21, 2016 – West Bend, WI – Enchantment in the Park opens Friday at Regner Park. The seasonal event which raises money and items for local food pantries is written up as one of the Top 6 holiday events across Wisconsin, Illinois and Minnesota.
Click here to read the review in the Milwaukee Journal Sentinel.
On a history note:
Enchantment In The Park was established in 2009 by the Rotary Clubs of Washington County.
Enchantment in the Park was first located at the Washington County Fairgrounds from 2009 – 2012.
Since 2009, over $80,000 has been given back to area non-profits, 5 Rotary Clubs, and Food Pantries.
ENCHANTMENT, Inc is a not-for-profit 501(c)(3) corporation with an Executive Director and Board of Directors comprised of Rotarians and other community leaders. They meet and work year round to plan, grow, and bring you this fabulous community event!