Escort to a final resting place for Paul Wolf
It was a slow and solemn procession this morning as there was a final tribute to Allenton EMS Chief Deputy Paul Wolf whose body was escorted by an ambulance from the Shimon Funeral Home in Hartford to Resurrection Catholic Church in Allenton.
The hearse drove past the family-owned Sunset Farms as Wolf's wife and children, friends, employees and family looked on in silence.
The procession made its way around the curve north  toward Highway 33 as the bright sun glared off the snow-covered field. Down the hill in Allenton, the procession made one final swing past the Allenton Fire Department as a northbound train crossed the highway and held up traffic.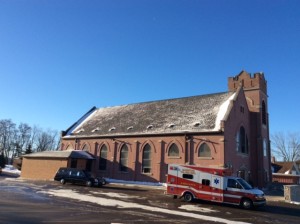 Firefighters and EMS wrapped a thin, black band around the ambulance parked at the front of the church; a sign of respect to a fallen member of the family.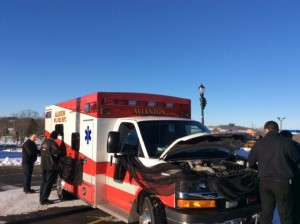 Members of the Dane County Honor Guard were joined by firefighters from Milwaukee and Allenton as they stood in the church parking lot waiting to walk their friend into church. Dressed in full uniform, firefighters donned white gloves as pallbearers gently guided the casket to the front of the church.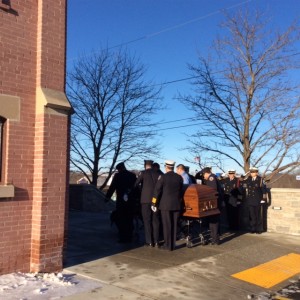 The Mass of Christian Burial for Paul is Monday, Jan. 4, 2016
at 11 a.m. at Resurrection Catholic Church, 215 Main Street – Allenton.

Interment in Sacred Heart/ Resurrection Cemetery in Allenton.  Paul Wolf was 49.

In lieu of flowers, memorial contributions to St. Peter's Catholic School (206 E. Washington Street – Slinger, WI 53086) or to the Allenton Volunteer Fire Department (431 Railroad Street, P.O. Box 107 – Allenton, WI 53002) are greatly appreciated.