West Bend, WI  – A Community of Voices opened this week at the Museum of Wisconsin Art, 205 Veterans Avenue, in West Bend.  This exhibition presents work from the 2018 class of inductees to the Sisters of Creativity, an art collective that seeks to recognize African-American women who have long been marginalized from the mainstream art world.
The richness and diversity of the exhibition features work by six Milwaukee artists: Blanche Brown, Rhonda Gatlin-Hayes, Chrystal Denise Gillon, Ruthie Joy, Tia Richardson, and 2019 City of Milwaukee Artist of the Year Rosemary Ollison. While their formal training and choice of media vary, these six artists are united in purpose: championing social justice and civil rights, giving voice to the voiceless, expressing spirituality, and coping with trauma. Their work reflects not just their personal beliefs, but also their care and compassion toward the wider community.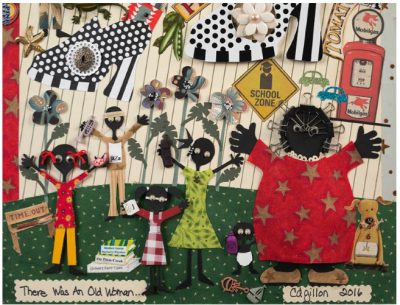 "A Community of Voices is an exhibition that's been in the making for several months. While it was planned for earlier in the year, we're delighted to share it now as it embodies our ongoing commitment to support emerging and established artists from Wisconsin's communities of color," said Director of Collections and Exhibitions Graeme Reid.
Originally scheduled to be on view April through June 2020, the exhibition opens July 8 with the museum reopening and runs through September 6, 2020.  The museum is open Wednesday through Sunday, 9:30 a.m. – 5 p.m. with the first hour reserved for seniors (60+) and vulnerable members.
Blanche Brown is a trained therapist and has been a professional artist for more than eighteen years. Brown's stepfather, Robert Bonner, was a talented artist and graphic designer. Only after his death did Brown discover that art could be a valuable vehicle for dealing with loss. She has exhibited locally and nationally, and been an artist-in-residence at several schools and community programs. She is also a public speaker and workshop presenter.
In her own voice, she elaborates: "My work addresses social injustices and the psychological impact these issues have on underserved and underrepresented groups." Brown views her work as a forum for diverse individuals to discuss the struggles of stereotypes, inequality, and the mental health problems that often result.
Rhonda Gatlin-Hayes began making art in childhood. She drew birds, butterflies, flowers, and people; crocheted; and experimented with corrugated cardboard, fabrics, and found objects to create something new from discarded items. Her mother was an avid seamstress, quilter, and crafter. Upon her death, Gatlin-Hayes inherited lots of sewing notions, buttons, fabrics, and other crafting items. Inspired by the idea that devalued and disregarded objects can be elevated by art, GatlinHayes's creativity re-emerged. Her first major project was a three-story Victorian dollhouse made from her mother's old materials.
Gatlin-Hayes's detailed assemblages and collages unite unlikely combinations of objects to highlight the beauty in their differences. Her representational masks embody the message that all individuals have worth and that no one should be taken at face value, but should be considered more closely, for what lies beneath. Fascinated by the uniqueness and the individuality of others, Gatlin-Hayes's body of work is fueled by her fascination with what is behind the masks we wear.
Chrystal Denise Gillon grew up in a creative environment where she was encouraged to discover her innate ability to make things. Her formal art training began at Alverno College where she received her BA degree in art education. Years later, she returned to school and earned a BFA degree from the Milwaukee Institute of Art and Design.
Gillon has been creating assemblages and collages using mixed media and found objects for a number of years. Her themes stem from her views on life as an African American, a lover of Jesus, and as someone who feels nostalgic for her childhood years of the 1950s and 1960s.Gillon has recently added soap-making to her creative endeavors. She uses all natural ingredients with essential oils, natural colorants, and nature's botanicals; some are designed specifically for vegetarian, vegan, and gluten conscious individuals. Presently, she is working toward marketing her soaps from her studio in The Marshall Building in Milwaukee's Third Ward.
Ruthie Joy is a Milwaukee native who graduated from Alverno College with a degree in psychology. Many family members were artists in some form and this influenced Joy, whose interest in art peaked after she began painting as a way to deal with stress. Today she is a self-taught abstract artist whose works are full of bright colors that flow across whatever surface she selects—canvas, paper, ceramic, fabric, or glass.
Joy has exhibited in several juried shows and galleries. In 2008–2009, she taught adults with disabilities. In 2012, she was accepted into the mentor program through MARN (Milwaukee Artist Resource Network). "For me, painting abstract art evokes a spiritual presence and energy that dominates my creative processes." Joy explains. "I express myself by translating everything I see and feel into colors and rhythmic patterns."
Rosemary Ollison is a self-taught artist living in Milwaukee. She was 16 when she moved to the Midwest from a plantation in Arkansas. She began making art in 1984 while healing from an abusive marriage, and for the next 25 years experimented with numerous media. Most of her work deals with her identity as a Black woman and celebrates the power, individuality, and mystique of other women. In 2019, the 77-year-old Ollison was recognized as Artist of the Year by the Milwaukee Arts Board.
Besides drawing, Ollison collects glass, leather, bracelets, beads, bones, and jewelry, which she incorporates into sculptural works. She has created an environment in her small apartment with layers of pattern, duct tape sculptures, curtains of woven leather, crazy quilts, and inventive drawings. Ollison also designs clothing and writes poetry. She says her art arises from dialogue with God: "When I am creating I am satisfied, I am free! I no longer just exist, I am alive!"
Tia Richardson received her graphic design degree from Milwaukee Area Technical College and has expanded her areas of expertise to include portraiture, community-engaged murals, working with youth groups, and artsbased trauma therapy. In 2007, she became a full-time community muralist working with community centers, K12 and post-secondary schools, businesses and local government. To date, she has completed more than fifty collaborative murals and other creative projects with youth around the city. In 2018, the Milwaukee Arts Board recognized her as Artist of the Year.
Richardson is deeply invested in community and believes murals can build lasting bonds. "I believe in the power of listening and creating relationships through shared experiences," she notes. "The experience is what unites us and the outcome—the mural—is not just a product but evidence that despite our differences, we can work together for the common good."
Image Credit: Chrystal Denise Gillon, There Was An Old Woman, 2016, mixed media collage, lent by the artist