Fate of gazebo in Cedar Creek tabled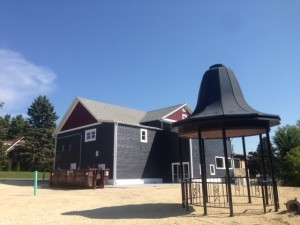 The fate of the gazebo, which formerly made its home at Old Settlers' Park in West Bend, has been tabled.
The gazebo currently sits in the back parking lot of the former Schwai's in Cedar Creek. Both property and the old park shelter are owned by Kevin and Amy Zimmer.
The couple went before the board of zoning appeals in the Town of Polk this week. Zimmer said action on placement of the gazebo was tabled until "a more accurate survey of the property is presented to the variance board."
"Hopefully we can get the placement approved at the next town variance meeting," Kevin Zimmer said.
The proposal on where the couple wanted to place the gazebo is posted on the agenda below.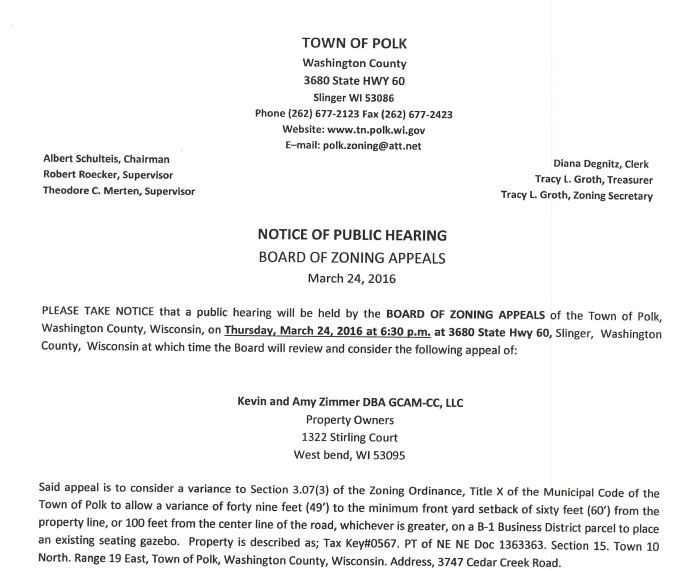 On a history note: Here's the story that ran Sept. 1, 2015 regarding Kevin and Amy Zimmer's purchase of the gazebo.
Gazebo from Old Settlers Park sold: Kevin and Amy Zimmer are happy to announce a new addition to their family. The couple celebrated the winning bid for the gazebo at Old Settler's Park located on the triangle of Sixth Avenue and Main Street in West Bend. "I bid $18.45," said Kevin Zimmer. "I chose that amount because I believe that's the year West Bend was incorporated."
On Sept. 17, Steve Awve moved the gazebo from downtown West Bend to the former Schwai's in Cedar Creek. The relocation was full of adventure as Awve dodged low-hanging wires, got caught in a swarm of bees and eventually pulled in an escort from police.