Associated Bank in Fond du Lac robbed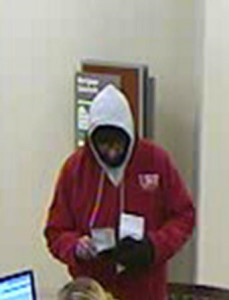 Fond du Lac Police are looking for a man in his mid 40's who robbed the Associated Bank at 888 S. Main Street Thursday afternoon.
Police got a call at 3:38 p.m. about the robbery. Witnesses told investigators the man entered the bank and handed an employee a note demanding money. After receiving it he left on foot. No weapon was displayed and there was not threat that a weapon would be used.
No one was injured during the incident.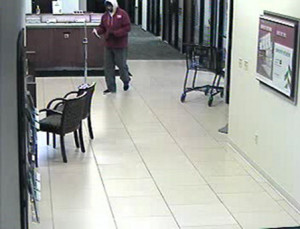 The suspect is a white male, 6 foot 1 inches to 6 feet 2 inches tall with a thin build. He was wearing heavy, dark-framed glasses. a red "Coaches Corner" long sleeved shirt with a gray hooded sweatshirt layered underneath.
Fond du Lac
Police detectives are interviewing people about the bank robbery at the Associated Bank on South Main.  Police released two photos of the suspect from bank video.
They also checked with other businesses in the area that might have caught something on video including Fond du Lac Fire Station No. 1, which is near the bank.
The suspect did not display a weapon in the robbery or make a threat that he had one. Thiry said they actually train people who might be robbed not to put up a struggle, but just hand over the money.

The robber was wearing green or gray pants and tennis shoes. He also had a black colored, winter face mask with his face exposed and one black glove.
Anyone with information is encouraged to call Detective Bill Ledger at (920) 322-3723 or the Crime Alert number at (920) 322-3740.