Final flavor of the day selected at Toucan Custard
August 19, 2017 – West Bend, WI – It's going to be a local trivia question one day. "What was the final flavor of the day when the Moehr family owned Toucan Custard?"
The correct answer will be: "That's Al -Moehr –A" a Smores custard with chocolate flakes,  marshmallows and graham crackers will be the flavor of the day today as the Moehr family works its final day at Toucan Custard.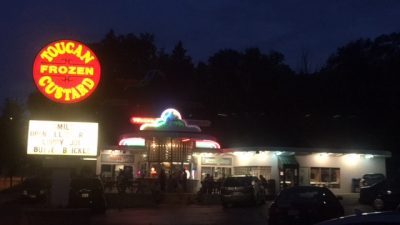 After 27 years as owners of a landmark business in West Bend the Moehr family is moving forward with their lives announcing the sale of Toucan Custard. "We've been in the process of trying to sell Toucan," said Jacquelyn Heise.
"Our last day here will be August 19 as we have found different owners and they will take over and kinda keep Toucan the same which we are very, very excited about," said Jacquelyn Moehr Heise. "We're sad to go but happy at the same time and want to thank you all very, very much for the last 27 years."
"Of course we'd hate to see it completely change but we were at the end of what we were doing and whoever bought it would do whatever they would need to do," Jacquelyn said.
The sisters said they are looking forward to doing their new thing, which includes a family trip.
"After the sale we're going to get into several cars and all drive to Graceland," she said. "Because we can!
"The only way we can go on vacation together is to close Toucan and we could never do that," Jacquelyn said.
The girls picked Graceland as a promise to their mother who had been battling cancer. "Being able to travel now as a family is just the silver lining in this whole thing."
On a positive note the Moehr family said they would really miss the people. "We'll miss the kids," said Jacquelyn. "They're like our kids and they'll tell you this is a family down here."
As far as a final shebang to go out in a blaze of glory with a big celebration… the girls said they prefer to leave quietly but hope people write their memories.
"It would be cool to get a memory book down here and have people share/write their favorite memory," said Jacquelyn.
The business was listed by BOSS Realty.
Photo courtesy Moehr family and Toucan Custard.