First grader from Jackson Elementary stars in TV commercial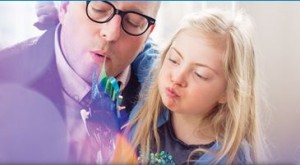 A 7-year-old girl from West Bend is featured in a new TV commercial for Children's Hospital.
Gianna Nevsimal has a winning smile and a story that, according to her dad, has been "stealing the hearts of people for as long as she's been alive."
A first grader at Jackson Elementary School, Gianna's story involves successful prayers for adoption by then Archbishop Timothy Dolan. He described himself in an article in the New York Post as simply a catalyst who connected a "family facing a challenge with another one needing a blessing."
Turned over at birth in an open adoption to Charles and Deb Nevsimal of West Bend, Gianna who has Down syndrome, needed surgery to close two holes in her heart.
"Her heart was the size of a plum and she went into Children's Hospital at five-months old and took it like a champ," Nevsimal said. "The surgery went easier than teething and that's how great the people are at Children's."
Gianna's surgery was Feb. 12, 2009. "We celebrate that day and call it 'perfect heart day' and it's nice it's so close to Valentine's Day," Nevsimal said.
The timeline that follows the surgery is a strong testimonial to Children's Hospital. "After just three days she was ready to move out of the ICU and within two more days we were already taking her home – that was just five days after having an 8-hour surgery where they stopped her heart; the people that work at Children's Hospital… it's really miraculous."
The 60-second commercial for Children's Hospital focuses on how children are 'like sparks of light and how Children's Hospital of Wisconsin, can be trusted to keep that light shining bright.'
Shot on location in Bay View, Nevsimal and his daughter were on set for about an hour. "We came in and Gianna immediately owned the room," he said. "They put her in hair and makeup and she was supposed to blow this pinwheel. The light reflected off the pinwheel onto her face and made it beautiful."
Nevsimal credits Hanson Dodge Creative, the agency that shot the commercial, for bringing it to life. "Gianna was just thrilled," he said. "She literally lit up when she saw herself on screen."
On Friday, Gianna and her parents celebrated 'perfect heart day.' "We can now share our celebration with the rest of the world through this commercial," Nevsimal said. "And her scar from the surgery – we call it her beautiful scar because underneath it she knows she has a perfect heart." Catch Gianna in the commercial at the 42-second mark.
Click here to take a look at the commercial for Children's Hospital.
To see Gianna's reaction to the commercial click here.  Courtesy Charles Nevsimal.
Photo courtesy Children's Hospital of Wisconsin.