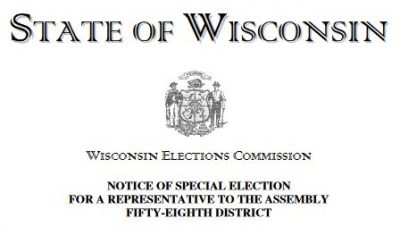 Nov. 9, 2017 – Washington Co., WI – As of late Thursday, Nov. 9 there were five potential candidates who filed information with the Wisconsin Ethics Commission to run in the upcoming Special Election to fill the vacant seat in the 58th Assembly District.
On Nov. 1 when Gov. Walker announced details of the Special Election WashingtonCountyInsider.com was first to report on Steve Stanek announcing his candidacy.
On Monday, Nov. 13 Tiffany Koehler officially announced she was stepping into the race.
Both are running on the Republican ticket.
Spencer Zimmerman of Janesville also filed paperwork to run as a Republican. According to West Bend city clerk Stephanie Justman, a candidate only has to be a resident of the district 10 days prior to taking office.  Zimmerman has run in a number of races including the 1st Congressional District in Wisconsin in 2016.
Dennis Degenhardt of West Bend also filed papers. He is running as a Democrat and Christopher Lewis Cook from Miller Street in West Bend also filed a campaign registration statement. Cook lists himself with the Independent, Socialist Party.
All candidates must collect between 200 – 400 signatures. Nomination papers are due no later than 5 p.m. on Tuesday, Nov. 21, 2017 in the offices of the Wisconsin Elections Commission.
Gov. Walker set a primary for Dec. 19, 2017. The Special Election will be held Tuesday, Jan. 16, 2018.
The 58th Assembly District includes the communities of Slinger, Jackson, Town of Polk, parts of Richfield, Town of Trenton and West Bend.
The seat in the 58th became vacant following the unexpected death of Rep. Bob Gannon.
His term expires January 7, 2019.