Five veterans from Washington Co. on Sept. 16 Honor Flight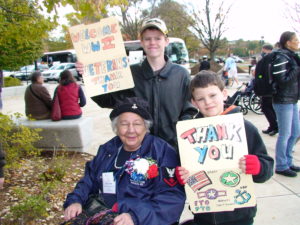 Sept. 2, 2017 – Washington Co., WI – There will be five veterans from Washington County on the Saturday, Sept. 16 Honor Flight out of Milwaukee.
Among the local veterans on the flight include: Korean War Marine veteran Henry Sausen Jr (Hank) of Hartford, Korean War Army Morse code interceptor Dennis Bingen of Kewaskum,  Vietnam War Army veteran Dennis Muench of West Bend, Army combat Erv Wicklander, and Navy veteran Thomas Gentz of Germantown.
Stars and Stripes Honor Flight (SSHF) will fly the first of three fall Honor Flights on Saturday, Sept. 16 when the organization's 41st "mission" takes off for the nation's capital.
For the first time since the program began in 2008, the organization will fly an entire plane of Vietnam veterans from southeastern Wisconsin.
"This is a momentous occasion for Stars and Stripes Honor Flight," said Paula Nelson, president of SSHF.  "Our Vietnam veterans have waited so long to be honored and welcomed home.  We are thrilled to be able to welcome 76 local Vietnam veterans for their Honor Flight flight, and will welcome many more to our other two fall flights."
Two Delta Airlines A320 aircraft will depart Milwaukee's Mitchell Airport at approximately 7 a.m., bound for Reagan National Airport in Washington, DC with 76 southeastern Wisconsin veterans on board each plane.  The "alpha" tour will be made up of all Vietnam veterans, while the "bravo" tour will welcome 15 WWII veterans and 61 Korean War veterans.
Veterans who will be taking their Honor Flight on September 16 include both a B-17 bomber pilot and a crew chief from WWII, a 94 year old Women's Air Corps private, a WWII foot soldier in the Philippines, a Korean War Marine who received the Purple Heart but refused it, two Vietnam War combat medics, and a Vietnam War helicopter pilot.
After the planes land at Washington's Dulles Airport, the veterans will board coach buses to tour the WWII Memorial, the Korean War Memorial, the Iwo Jima/Marine Corps Memorial, the Vietnam Veterans' Memorial Wall, and more. The day will also include viewing the Changing of the Guard at the Tomb of the Unknown Soldier at Arlington National Cemetery.  A DC Park Police escort will ensure that the veterans do not spend time stuck in traffic.
"It is our honor and privilege to take these local heroes to Washington DC and to give them an entire day of thanks," Nelson said. "So many of our veterans have never been thanked for their incredible service to our country so many years ago. We need to not only thank and honor them before it is too late to do so; we also need to reassure them that their service and sacrifice will never be forgotten."
Prior to the September 16 flight, Stars and Stripes Honor Flight has flown 5,074 local veterans on these trips to Washington, DC since 2008, and has honored more than 50 veterans locally who were not able to fly. As an all-volunteer organization with no paid staff and no offices, the organization is proud to share that $.96 of every donated dollar goes directly to flying and honoring veterans.
Future Stars and Stripes Honor Flights for 2017 will take place on Saturday October 14 and Saturday November 4.
Honor Flight is a national program with more than 130 hubs from coast to coast. The WWII Memorial did not open until 2004 and many veterans are unable to visit Washington DC without assistance.
The average age of a WWII veteran is 92 years old, and only five years separate the average WWII veteran from the average Korean War veteran. Nationally, hubs in the Honor Flight network have taken well over 180,000 veterans to see their memorials.