Flipping a theatre – the makeover is underway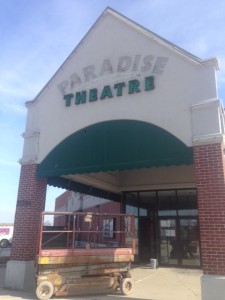 The change is underway as the Paradise Theatre, under new ownership, begins its transformation.
"In stages," according to the new owner group, Boppa LLC, which took over operations Feb. 29, 2016.
The ownership was not planned, but welcomed. Flipping the theatre became a passionate project by local owners who thought the community deserved a cinema that featured multiple screens in a family setting with affordable prices.
"Challenged" to find contractors in a limited time frame the new owners group decided to tackle the project in segments starting with a good cleaning.
"Cleanliness and friendliness," said spokesman Troy Hanson.
For the past week the new owners have worked alongside staffers to give the theatre a solid cleaning. "The candy we found buried in the seats was petrified," said Hanson.
Changes underway at the theater include new bathrooms, carpet, paint,and  lighting.
"In the coming months new seating will be installed," said Hanson. "This week, new outdoor signage was installed."
Log on Monday to http://www.washingtoncountyinsider.com to be the first to see the new look!
A grand re-opening at the new West Bend Cinema will be March 18.