Follow up on semi accident on Hwy 45 in Town of Polk | By Washington County Sheriff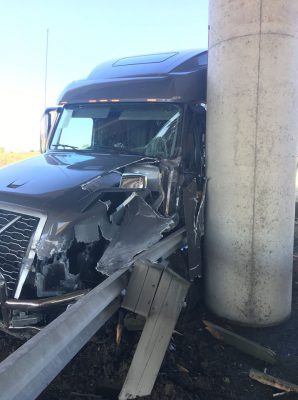 Sept. 13, 2018 – Town of Polk, WI – On Sept. 12 at approximately 3:58 p.m. the Washington County Sheriff's Office was notified of a semi-tractor trailer that had gone into the median on USH 45 southbound at Pleasant Valley Road and struck the bridge pier.
Callers reported the driver of the semi was injured. Washington County Sheriff's Deputies along with the Jackson Fire and Rescue were dispatched to the scene.
The investigation revealed the driver was southbound when the new semi-truck suffered a significant failure in the steering system. The truck began heading for the median at which point it struck the median guardrail which prevented it from going into oncoming rush hour traffic.
The semi continued along the median guardrail until it struck the bridge pier and came to a rest. No other vehicles were damaged in the accident. The driver of the semi was transported by ambulance with minor injuries to Froedtert St. Josephs Hospital in the Town of Polk.
Both lanes of USH 45 southbound were closed at Pleasant Valley Road for one and a half hours while the semi was being removed.
The bridge was inspected by the Washington County Highway Shop and deemed safe.
.