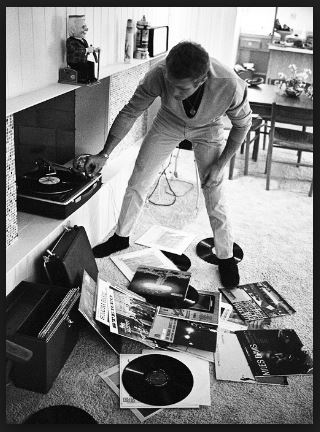 April 1, 2017 – West Bend, WI – Record Store Day is April 22 and here's a trip down memory lane filled with record memories from hip chicks and groovy teens in West Bend.
Kathy German – We were pretty limited with record stores in West Bend when I was growing up. I don't know that Schultz Brothers (the Baird building) had anything. JC Pennys and Ley's Department Store (Jeanne's County Casuals) all carried clothing and we had the Ben Franklin and they had fish and clothes and crafts, so the only record store we had at the time was The Exclusive Company. They were in a long, dark, narrow building on Main St. Then they moved to the old Campbell's store. I'd be flipping through the albums in my groovy crocheted vest; the one that was down to your knees because your aunt made it one-size-fits-none. I bought my In-A-Gadda-Da-Vida album and my brother made a black light in some shop class and we'd play that album for 99 hours because it was the best drum song ever and then your parents yelled to turn it down, but that really meant off.
Kathy Kjer – I grew up in Milwaukee and went to Radio Doctors at Capital Court and bought Shelley Fabares' Johnny Angel, my favorite record. I'd sit on my bedroom floor and play it over and over again on my turntable, which was the size of a portable typewriter. I would sing into the mirror but Fabares' voice was so much better.
Bob Motl – Summer of 1976 I bought a component stereo at Flanner and Hafsoos at Mayfair Mall with my paper route earnings. Then I went to 1812 Overture on 60th and Capital Drive in Milwaukee and bought my first album (not CD, those were where you kept money) Gary Wright Dream Weaver. Awesome album. Still have the original disc washer for optimum record album cleaning! I think they also sold some kind of smoking materials and t-shirts mom and dad wouldn't let you wear.
Shelly Kehoe – I can remember walking down Oakland Avenue in Shorewood to go shop at Atomic Records on the east side of Milwaukee. I can even remember seeing the band Jane's Addiction there and meeting them in this small little record store. This store had all types of music but was mainly known for having cutting-edge vinyl of alternative music. Oh the days of Simple Minds, INXS -shabooh shoobah, U2 and the debut album BOY, Violent Femmes, Til Tuesday, Alphaville, Echo and the Bunnymen, Depeche Mode and Morrissey.
Liza Cler – In college I worked for a record store in Kenosha called Crossroads. It was the late 1980s and I remember the excitement when we would get new music shipments. We would instantly put the cassette or CD on in the store. CDs were new and we still carried cassettes and albums. It was fun to get a new artist and file them in the miscellaneous category. Once they were a hit or had a few more CDs or albums, then they got their own section. I remember seeing an album for The Red Hot Chili Peppers and thinking, what is up with this name. In the late '80s, people would come in and buy CDs to replace their vinyl collection. There were a couple of regulars that visited weekly, buying more CDs and letting us know what the total count was in their collection.
Jed Dolnick – When I was a youngster in the 1960s, I used to tag along with my older brother to the Bob Sacks record store at the old Bayshore Shopping Center (now the Bayshore Town Center) in Glendale. The teenagers could listen to LPs and 45s in listening booths before buying.
Record Store Day at The Exclusive Co. in West Bend is Saturday, April 22 from 8 a.m. – 8 p.m.
Photo courtesy Kirk Dyken