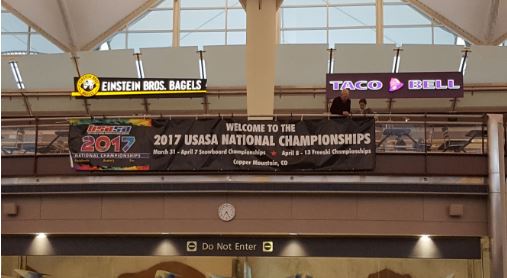 April 1, 2017 – Slinger, WI – On Friday my brother Connor Zapfel, my dad/coach Paul Bullis, my little brother, my assistant coach Jayna Schmittinger and I flew out of Milwaukee at 5:30 a.m. We arrived in Denver at about 7 a.m. mountain time to a big welcome sign for the 2017 USASA National Championships.
We then went to my snowboard sponsors shop. Donek snowboards is a custom snowboard manufacturer. The owner, Sean Martin, gave us a tour of the shop and explained the whole process of how their snowboards are produced.
We then made the trek up to Copper Mountain, Colorado. This is a big week for the Slinger Snowboard Team.
We have four of our high school athletes competing and our coach Jayna.
This is the week that many of have been waiting for for months. We will be competing in the Giant Slalom, Slalom, and Boardercross.
Cade Miller and Alec Nelson are also competing out here at Copper this next week.
Alec Nelson is sponsored by Expedition Supply. I, myself, am sponsored by Donek Snowboards, Attitude Sports, and JL Business Interiors.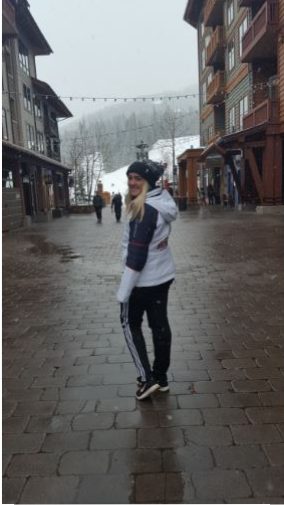 Tomorrow is our only practice day when all 1,800 athletes can run the coarse and practice in the terrain parks and on the 22-foot half pipe.
I will let you know through out the week how everyone is doing. We are really looking forward to it and cannot wait to start racing on Sunday.
Lexi Bullis