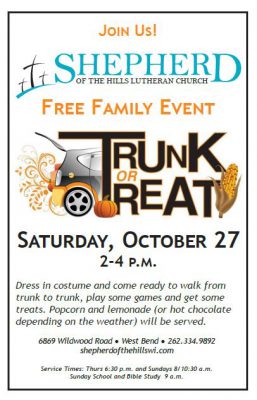 Oct. 16, 2018 – West Bend, WI – Shepherd of the Hills Lutheran Church, 6869 Wildwood Road in West Bend, invites the community to attend Trunk or Treat on Saturday, October 27 on the church property from 2 – 4 p.m.
Families are encouraged to come in costume and park in the church parking lot. They will be directed to begin their fun at the welcome table to pick up a bag for collecting treats and a chance to win door prizes and coupons from local businesses.
From there they will walk from trunk to trunk where children can play games and get candy. Popcorn and lemonade will be served, (or hot chocolate and hot cider depending on the weather – one never knows what to expect in Wisconsin).
A Washington County Sheriff's squad car will be on campus from 2 – 3:30 p.m. for those wanting a peek inside the car and to talk with a Deputy. Scoopie, the Culver's mascot, will also be there greeting the kids.
Regular worship services are Thursdays at 6:30 p.m. and Sundays at 8 and 10:30 a.m. Sunday School and Adult Bible Study take place at 9 and 9:10 a.m. September through May.
Any questions can be directed to the church at 262-334-9892 or visit shepherdofthehillswi.com.