Freeze warning in effect from midnight until 8 a.m. Monday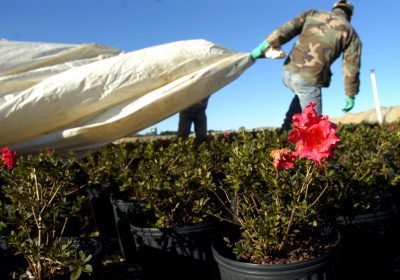 May 7, 2017 – Washington Co., WI – Cover up your plants tonight or better yet take them indoors as a freeze warning has been issued for Dodge-Washington-Ozaukee and Waukesha.
Including the cities of  Fond Du Lac, Beaver Dam, Waupun, Mayville, West Bend, Germantown, Hartford, Mequon, Cedarburg, Grafton, and Waukesha.
…FREEZE WARNING REMAINS IN EFFECT FROM MIDNIGHT TONIGHT TO 8 AM CDT MONDAY…
a Freeze Warning remains in effect from midnight tonight to 8 AM CDT Monday.
* TIMING…From midnight tonight through 8 am Monday.
* TEMPERATURE…Lows in the upper 20s to lower 30s, with middle 30s along the Lake Michigan shoreline.
* IMPACTS…Sensitive outdoor plants may be damaged if left uncovered.
PRECAUTIONARY/PREPAREDNESS ACTIONS…
A Freeze Warning means sub-freezing temperatures are imminent or highly likely. These conditions will kill crops and other sensitive vegetation.
Photo courtesy NOLA.com   Forecast via accuweather.com