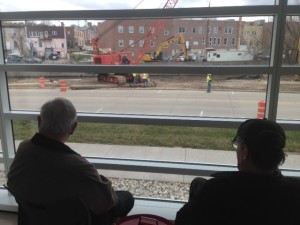 The second time will hopefully be the charm as West Bend's pedestrian bridge will be delivered Wednesday for installation.
This was the plan a week ago but an unpainted bridge was delivered. A quick check of the contract revealed it should have been white – sooooo, it was hauled out of town again and off to the paint shop for a couple coats.
Set for delivery Wednesday, Veterans Avenue from East Washington Street to Water Street will be closed to through traffic on between 11 a.m. and 5 p.m. This closure is necessary to permit the delivery of the new pedestrian bridge structure.
The Museum of Wisconsin Art is letting visitors in starting at 11 a.m. at no charge to watch the installation.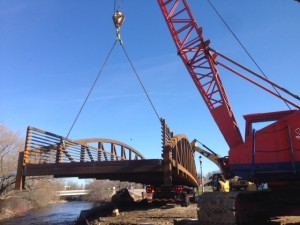 Contractors will be working on both sides of the river to set the bridge in place. The crane will pull the bridge off the flatbed truck and then swing it in place. One end of the bridge will be set into the water and then the forklift on the west side will pick it up and set it down on the cement step.
There are two metal posts within each of the cement steps on both sides of the bridge. Those posts will be insterted into the holes at the base of the four footings.
Once in place the new pedestrian bridge will tie the downtown from Old Settlers' Park through Vest Park across the river and Veterans Avenue to the Museum of Wisconsin Art.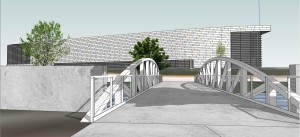 Motorists are reminded to abide by all traffic control signs and devices as well as be aware of ongoing construction activities. Alternate routes should be planned to avoid construction whenever possible.