Funeral set for Jan Petri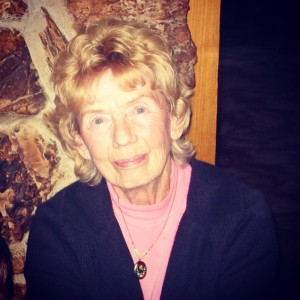 Janet Mary Petri, nee Kircher, passed away unexpectedly on Friday, March 4, 2016.
She was born June 3, 1930 in Milwaukee to the late John "Vincent" and Laura (nee Hardt) Kircher.  Janet attended St. Mary's Immaculate Conception Parish School and graduated from West Bend High School on June 3, 1948.  She married James Henry Petri on September 8, 1948. James preceded Janet in death on March 9, 1997.
Janet's hobbies and interests were many. She loved to travel and was active within the community. She was a sports enthusiast, a die-hard Packer and Badger fan. She enjoyed playing golf, darts, and cards with her friends. She was also a long time employee of Cedar Community.
* * * A story about Jan's ties to Petri's Supper Club / Steakhouse is available here. * * *
Janet treasured and adored her family immensely.
Those Janet leaves behind to cherish her memory include her five children, Jill (Robert) Lapacek, Jeanie Williams, Jennifer Cechvala, Jacqueline (Dennis) Bode, and Jamie (Mark) King; her nine grandchildren, Cara (Mark) Blankenburg, Katie Lapacek, Holly Cechvala, Kassie (Shawn) Hefty, Jared (Krystal) Cechvala, Robbi (Matthew) Parrent, Raquel Bode, A.J. King and Abby King; five great-grandchildren Ashlyn Blankenburg, Kamryn Lapacek, Brooke Blankenburg, Payton Hefty and Brody Hefty; a brother, Donald (Joyce) Kircher; many nieces, nephews, other relatives and friends.
In addition to her parents, Janet was preceded in death by a son, James "Rocko" Petri; two sisters, Carol (Gary) Fuller and Bev (Carlos) Meilinger and a brother, Vincent "Butch" (Kathy) Kircher.
A memorial service will be held on Friday, March 11 at 12:00 Noon at St. John's Ev. Lutheran Church (809 S. 6th Ave., West Bend) with Rev. Jeff Dorth officiating.  Burial of Janet's cremated remains will follow.  The family will greet relatives and friends at the church on Friday from 10:00 a.m. until the time of service.
The Myrhum Patten Miller & Kietzer Funeral Homes have been entrusted with Janet's arrangements.  Additional information and guest book may be found at www.myrhum-patten.com.