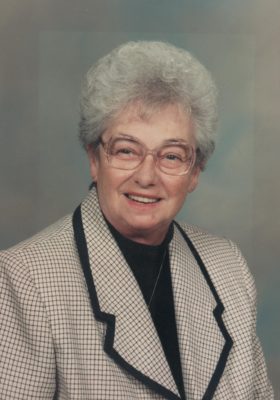 Nov. 22, 2016 – West Bend, WI – Patricia A. Landrum, nee Newman, formerly of the Fredonia area, died on Friday, November 18, 2016 at the Samaritan Health Center at the age of 80 years. She was born on October 27, 1936 in Logansport, IN to the late Lawrence and Helen (nee Netcher) Newman.
She grew up in Logansport, attending local schools. She later went on to business school in Ft. Wayne, IN, earning her certificate.
In September, 1956, she married Donald Landrum in Logansport, IN.
In 1970, she moved to Wisconsin, settling in the Fredonia area.
Over the years, Pat worked many area jobs. She found her passion managing the restaurant at Hawthorn Hills Golf Course in the Town of Saukville for more than 10 years.
After her retirement, she enjoyed traveling with Personalized Bus Tours throughout the United States.
She was a member of the Women Of The Moose Saukville Chapter #1301, the James F. Pyle Post #2231 VFW Auxiliary in Monticello and the Landt-Theil Post #470 American Legion Auxiliary in Saukville.
Survivors include 2 children Sandy (Gene) Zimdars of Kewaskum and Pamela (Richard) Tesker of Saukville; 1 daughter-in-law Jill (Steve) Enright; 9 grandchildren: Jolie Landrum, Barbara (Jon) Eckes, James Landrum, Amanda (Aaron) Hanson, Rachel Zimdars-Shaske, Eric (Amy Sebo) Tesker, Kyle Tesker, Jon Enright and Brooke Enright; 2 great-grandchildren: Brynleigh and Leilah Eckes; 3 brothers-in-law: Carl Potter, Jack (Pam) Landrum and Dick (Wendy) Landrum; 1 sister-in-law Linda (Jim) VanVoorst; nieces, nephews, other relatives and friends.
In addition to her parents, she was preceded in death by 1 son Stephen, 1 grandson-in-law Greg Shaske, her former husband Donald , 1 sister-in-law Marilyn (Dick) Wagner and her parents-in-law George and Ada Landrum.
A Mass of Christian Burial will be held on Tuesday, November 22 at 4 p.m. at Holy Trinity Catholic Church in Newburg with Fr. Kevin Kowalske presiding. Burial will be Wednesday at 11 a.m. in Washington County Memorial Park. The family will greet relatives and friends during a period of visitation at the church on Tuesday from 2 until 3:45 p.m.
The family has requested memorials to Holy Trinity Catholic Church, Newburg.
Pat's family would like to extend a sincere Thank You to the staff of Seasons Hospice and the Samaritan Health Center for their compassion, friendship and care.
The Schmidt Funeral Home of West Bend is serving family. On-line guestbook and condolences available at www.schmidtfuneralhome.com