Feb. 16, 2017 – Slinger, WI – Slinger High School junior Lexi Bullis, 16, is headed to state this weekend for snowboarding. Bullis is a well-decorated athlete and she's posted an update on her accomplishments so far this season. Watch for more updates from Lexi Bullis as she heads to Nationals again this year in Colorado.
So this year has been a great year so far, and there is a lot coming up for me in the next month or so.
I competed for my Slinger High School snowboard team this year as well as the Midwest Best team, which is club snowboarding. I was conference champion in GS, Slalom, and Boarder cross this year for high school. Throughout the season I have been accumulating points based on my finishes for my club and I am currently ranked No. 1 in the nation (points wise) for both GS and Slalom.
A few weeks ago, I competed in the La Crosse Cup at Mt. La Crosse to practice for both my ski team and my snowboard team before state this upcoming weekend.
I did pretty good for skiing, but I took 1st in both GS and Slalom for Snowboarding.
Unfortunately, I fell in my boarder cross race which put me third overall. It was okay, though, because it was just practice for the main event this weekend.
Our girls ski team qualified for the state event this year as well as Brian Jasperson for the ski team.
Both of the girls and boys snowboard teams qualified for the state event.
To my knowledge, I am the only person competing in both the ski and snowboard state events this weekend.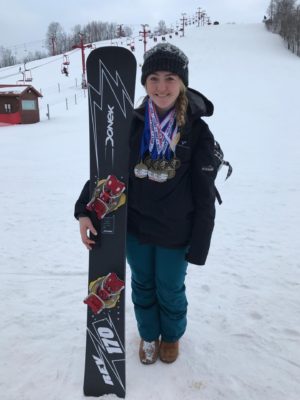 My hope is to attempt to win state for snowboarding, and be there to have fun and support my team and my fellow teammate Danielle Sylvester for skiing, for she is also going to attempt to win state for skiing.
After this weekend is over, training for snowboarding is not over.  The 2017 USASA Nationals this year is the first week in April. I am looking forward to the opportunity of going back out there again.
Seeking sponsors for snowboarding….
Back in August I reached out to Donek Snowboards out of Colorado for a potential sponsorship.
They accepted and I now have three Donek snowboards that I have practiced and raced on this season. I also reached out to Attitude Sports in Fond du Lac for a sponsorship as well.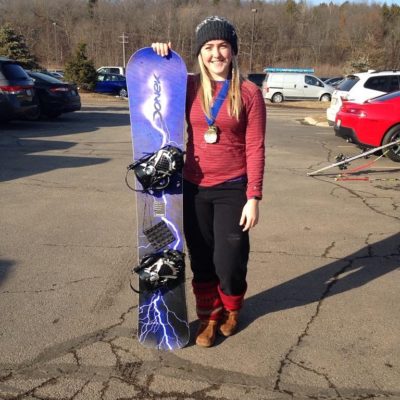 My most current Sponsor is JL Business Interiors in Hartford.
So far this season, I have won almost every single one of my races and have been more than pleased with how my boards have been treating me. Donek Snowboards is a custom snowboard company so each of the boards I have are custom to me specifically.
I cannot wait to see what the rest of the season has in store for me. I am super excited to be representing my sponsors and my teams in the next month.
Photos courtesy Lexi Bullis