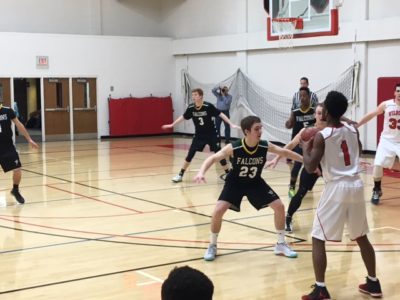 Feb. 16, 2017 – West Bend, WI – The UW-Washington County mens basketball team played well at both ends of the floor advancing to the quarterfinals of the Wisconsin Collegiate Conference post-season tournament with a convincing 92-64 victory over UW-Fond du Lac.
Shaun Fischer paced the Wildcats with a double-double scoring 16 points and 10 rebounds and added 3 blocked shots and 3 steals.
Dre Johnson scored 24 points including 4 3-pointers and had 4 assists.  Aaron Rathke also hit four 3-pointers and scored 17 to go with 5 assists.  Evan Rathke had 15 points, 4 assists, and 3 steals and Derrick Chaney scored 12.
The Wildcats burst open a 47-23 lead at halftime and started strong in the second half to put the game away.
As usual, the team demonstrated its tremendously positive attitude, unity, and spirit as players on the bench continuously vocalized supportive comments to teammates on the floor throughout the game.
Everyone in uniform for the Wildcats saw a minimum of 10 minutes of game action as the team walked off the floor having outscored its opponents for the 19th time this season in 25 games.
The Wildcats travel to play at UW-Sheboygan on Saturday at 2 p.m. with the winner advancing to the Final Four.