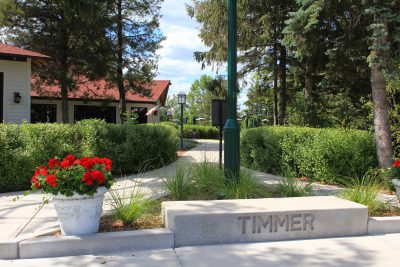 August 23, 2018 – Big Cedar Lake, WI – It was early 2007 when George Prescott phoned his wife Judi and according to an article in Around the Bend dated March 14, 2009 the conversation about Timmer's Resort went a little like this.
"I called Judi one day and said, 'Is it OK if I buy Timmer's?' and she said, 'Why would we do that?'"
The rest of the Prescott story surrounding the resort and restaurant on Big Cedar Lake… is history.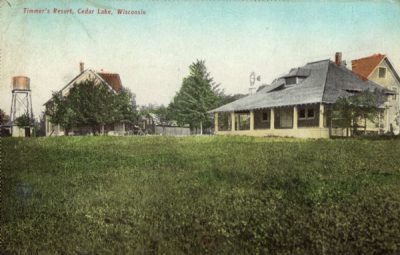 It was October 2007 when Prescott, a West Bend area investor and philanthropist, bought the historic Timmer's Resort and restaurant, 5151 Timmer Bay Road. Over the years Prescott worked to retain the nostalgia of the property that dates to 1882 when the hotel was opened by German immigrants Mathias and Margaret Timmer.
The Prescotts, who lives on the lake, paid $1.75 million for Timmer's Resort and restaurant, a little more than half the original $3.49 million asking price.
Fast forward 11 years, 2018, and Prescott is now putting Timmer's Resort up for sale.
"Yup I decided after 10 -12 years I have a nice sense of accomplishment that I brought the resort back to life and I'll turn it over to somebody else now to let them take it on," Prescott said.
Speaking from his home, Prescott said it was a difficult decision but one that "needed to be done."
"The cottages have been full. Every time we build another one it fills up right away. We have a deluxe one ready to go. There are a couple projects that are opportune for someone to take it away. We've had some tremendous interest from qualified buyers and that's just pretty much from word of mouth. A couple weeks ago the rumor caught hold and people started calling and it's been interesting to watch," he said.
Questioned what sort of buyer he was looking for, Prescott said he preferred "someone local who could maintain the integrity."
"I'm biased but I think the public will be better served with local ownership rather than remote ownership," he said.
A snowbird, George and Judi normally spend four to five months in Arizona.  He said if he had a preference, by January he may not "need to stay in touch with what's going on at the restaurant."
A savvy businessman, Prescott said a strong economy was weighing in his favor. "Interest rates are reasonable and the timing is just right with a number of full cottages and the success of the restaurant," he said.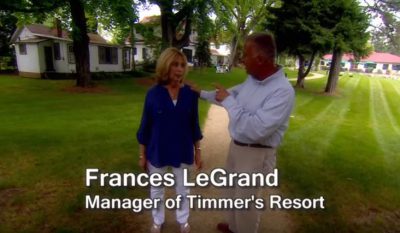 Changes are also happening behind the scenes. Resort manager Frances LeGrand will be leaving in October. "Although she wants to keep one finger in the soup, so to speak," said Prescott.
LeGrand was featured along with Prescott when John McGivern brought his PBS show Around the Corner to Timmer's
That show aired in February 2016.
Questioned whether his health played a part in his decision. It was 2001 when Prescott was diagnosed with Parkinson's.
Now 70 years old, he sounded strong and mighty thankful. "I'm pretty lucky," he said.
"I get along pretty well. I don't know how much longer that'll last but for the time being I've got good doctors and we're pretty on top of it. I get a fair amount of exercise but I could always do more," he said.
Prescott qualified Timmer's as "a special place."
Looking back at when he was considering buying place in 2007, he said he felt it was good timing.  "I had sold seven Pick n' Save grocery stores and I was feeling foot loose and fancy free," said Prescott.
"I thought, this place is run down and it shouldn't be left that way and I thought somebody has to step up to the plate. I just stepped up and was able to do some good and have a certain amount of fun doing it."
Questioned whether there was an offer on the table, Prescott was coy yet confident.
"There are conversations going on with serious contenders who have some thoughts on what to do with it and we want to cooperate with them. So we will see."
On a history note:  A story in Around the Bend, Nov. 12 2005 about Timmer's Resort read like this:
TIMMER'S CLOSING IN JUNE…
Jack Timmer, owner of Timmer's on Big Cedar Lake will be getting out of the restaurant business next year. Timmer, who has run the restaurant the last 25 years, said he is going to try something different. "People say 'you're so lucky you live on the lake' but I don't think I've really been on the lake during the summer the past 25 years because I've always been working."  The rustic looking restaurant has been in the Timmer family for140 years.  Timmer said he's had a couple of offers, but until he sees the money on the table he's not taking any buyout too seriously.  Timmer just wrapped up training with the Red Cross.  He said he would probably be helping out in New Orleans in the coming weeks.
The restaurant was then scheduled to close in March 2006.