Germantown Chamber of Commerce unveils new logo | By Lynn Grgich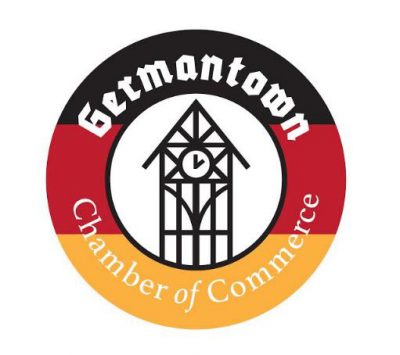 Sept. 20, 2018 – Germantown, WI – The Germantown Chamber of Commerce is taking on a new look and expanded marketing programs with the adoption of a new logo for the organization.
"The new logo design and treatment is a direct result of the Chamber's Marketing Committee," said Lynn Grgich, executive director with the Chamber. "We started having monthly Committee meetings late in 2017 and one of the first items of business was discussion on updating the logo which has been in use for 20 years."
The new graphic is a stylized half-timbered clock tower that reflects the motif of businesses along Mequon Road and elsewhere in the village. The color version includes the official black, red and yellow colors of Germany.
The new artwork has begun appearing on various Chamber promotional literature and on its website. Grgich notes full implementation will take a little time as it also involves signage and the depletion of current, usable printed materials.
The new graphic was developed by Eric Isaccson, a personal banker with Richfield office of the First National Bank of Hartford. He is a 2015 graduate of UW-Stout with a degree in graphic design.
"When the bank heard the Chamber was setting up this Marketing Committee they asked me to serve with it on behalf of the bank," said Isaccson.
After 'doodling' with some design ideas, Isaccson eventually came up with nearly a dozen concepts for the committee to consider. "The committee was absolutely great at providing a lot of ideas and ultimately they decided on the logo that will now be used. We had to look for something that is easily reproduceable in color and black and white, and can be adapted to many different formats, vertical and horizontal, large and small. I feel the new logo meets all that criteria."
According to Grgich, "The current logo was unveiled in 1999 and incorporated the flavor of the village's heritage and the then-new landmark of our Village Hall. It has served well for many years, but the Marketing group felt it was time to update the image."
"The Marketing Committee is looking at ways in which the Chamber can better promote itself and grow, not only in size, but also in recognition by the Community. Local citizens know we are here but we don't feel they fully realize how deeply involved the Chamber is regarding community activities. We want to increase that awareness. Eventually the new art will be used on letterhead, newsletters, business cards, signage, posters and everything we have that has always carried a logo," said Grgich.