April 15, 2019 – West Bend, WI – The leaders of the restoration of the Historic West Bend Theatre (HWBT) will break ground on the $3.5 million project at 4 p.m. May 1.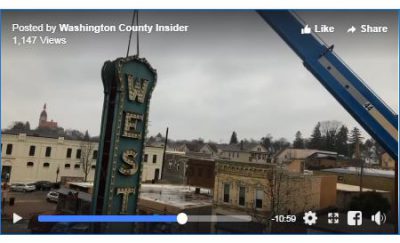 "Our volunteer board has been working two years to get to this point," said Nic Novaczyk, HWBT president.
"We are grateful for the outstanding support of so many in and around West Bend. It is fitting to celebrate the launch of the restoration of the iconic historic theatre with a 'gold shovel' and ceremonial groundbreaking in the company of many of the key contributors."
The celebrants will include representatives from the HWBT board; the City of West Bend; MSI General, the firm chosen to design and construct the project; Poblocki Sign Company, chosen to renovate the marquee and perimeter-lit sign; and lead donors — West Bend Mutual Insurance, the Ziegler family and its foundation, and the Stone Family and National Exchange Bank foundations.
The restoration will take most of 2019, with a goal of a grand opening in early 2020.
The plan calls for a multi-purpose venue that can accommodate a wide variety of performances and community gatherings.
"We have raised enough in significant donations to begin construction," Novaczyk said. "More than 75 donors have made this restoration possible. We will raise the balance during 2019."