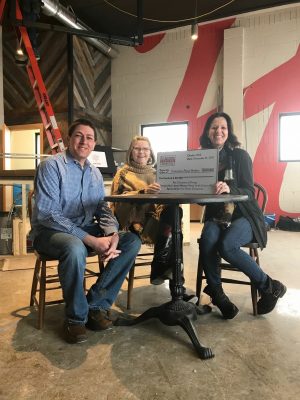 Jan. 7, 2018 – Hartford, WI – Jason Wix and Wendy Smith, owners of Faith & Giggles, are celebrating.
The couple, won the 2017 Dynamic Duo award from the Volunteer Center of Washington County's Champions of Change.  The Dynamic Duo features two people working together to make an impact on the area. 
Hartford Fire Chief Paul Stephans wrote the couple's nomination letter: "From the moment that Faith and Giggles opened for business in September of 2011, these two have led the charge to help people in need with no expectation of personal gain or recognition. They are relentless advocates for people in need and the strongest promoters of making our community a better place to live. Their commitment to support worthy causes from supporting a person that needs an organ transplant to organizing a county-wide coalition to fight the human trafficking battle inspires and epitomizes true volunteerism. Their generous donation of time and vast talent has championed change within this community and region."
Jason and Wendy were extremely ecstatic and thankful they had the opportunity to win, "Winning the award was really special because thanks to the Volunteer Center Washington Co. and River Shores Chiropractic, we were able to donate $500 to charity (Franciscan Peacemakers) that shows an enormous amount of love and compassion for those who tend to be forgotten or looked down upon in our society. We are most proud to have been nominated by someone in the community that we really respect, Chief Paul Stephans. This was our biggest honor."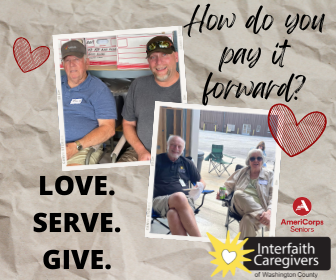 The next time you stop by Faith & Giggles, be sure to congratulate Jason and Wendy on their service to their community & winning the Dynamic Duo award. 
The next Champions of Change event will be held June 13 at the West Bend Mutual Insurance Prairie Center.