Hartford Rotary names Students of the Month for October | By Teri Kermendy
Oct. 30, 2018 – Hartford, WI – The Hartford Rotary Club and Hartford Union High School are pleased to announce Josh Buddenhagen and Emily Rohloff were honored recently as Rotary Students of the Month. The students were given special recognition for their accomplishments at the Hartford Rotary Club's Thursday noon meetings during the month of October.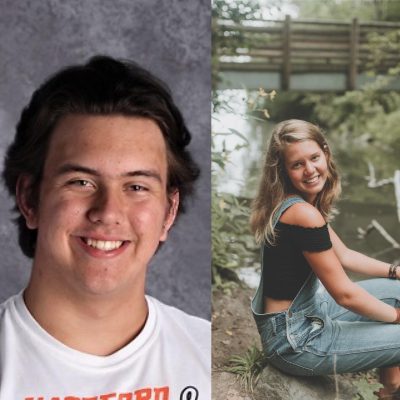 Josh Buddenhagen is the son of Tracy and Steve Buddenhagen. Buddenhagen has been a member of the Varsity Football team for the past three years and currently serves as a team captain. He is a current member of the National Honor Society and H-Club, and has also participated in Varsity Basketball (Grade 10), Track and Field (Grade 11), and Baseball (Grade 9) at HUHS.
Buddenhagen has given back to his community by doing volunteer work at HUHS through the H-Club and participating in mission trips through his church. In his spare time, Buddenhagen loves to write, work out and participate in other outdoor activities.
After graduation from HUHS, Buddenhagen plans to attend Augustana University to pursue a degree in Elementary Education or School Counseling. He also plans to participate in the Football program at the school.
Emily Rohloff is the daughter of Jennifer and Shane Rohloff. Rohloff has been a member of girls' Varsity Tennis Team all four years and was named team captain her senior year. She has received several awards over the past four years due to her involvement in tennis. They include the Mental Toughness Award, Team MVP and the Coaches Award. Rohloff was also named Athlete of the Month for September this fall. Rohloff has also been active in the H-Club, the Math Club, the Math Team, the SMART Team, Future Business Leaders of America, Student Council (Grade 9), Girls Basketball (Grades 9 and 10), and the National Honor Society (currently President of the organization).
Rohloff has given back to the community by tutoring students in math and reading to help prepare them for high school. Through H-Club, National Honor Society, and FBLA, she has helped with registration or course direction for the "Pink Pumpkin Run", the Shamrock Shuffle, and the Lincoln Fun Run. Rohloff has also participated in the annual Thanksgiving Food Drive, and the Christmas "Toys for Tots" and the Salvation Army bell ringing campaigns.
After graduation, Rohloff plans to attend a 4 year university to pursue a major in Biology. She is currently looking at Northwestern University and UW-Madison as her top two choices. She hopes to eventually pursue a career as a Physician Assistant.