Oct. 30, 2018 – Washington Co., WI – As neighbors drag quilts out of the cedar chest, put on another layer of fleece, sweaters or hoodies and debate whether to turn on the furnace for the season we are all coming to grips that the inevitable Midwest winter is just around the corner.
The Harris Farmer's Almanac for 2019 is on the shelf at ShopKo and if you really want to know the Almanac's predictions for the snowy timetable ahead…. keep reading.
"Each and every year since 1818, the Farmer's Almanac has ben offering long-range weather predictions that are known to be amazingly accurate.

"How does the Farmer's Almanac do it? The person who knows the exact formula is the Farmer's Almanac weather prognosticator, who goes by the pseudonym 'Caleb Weatherbee.' 
The November 2018 weather forecast (we are in ZONE 2) for Great Lakes, Ohio Valley & Midwest:
Nov. 1-3: Stormy for Great Lakes, points east.
Nov. 8-11: Wet weather, then fair, cold.  (Important because Germantown Christmas Parade is Nov. 10 at 1:30 p.m. and Hartford Christmas Parade is Nov. 10 at 3 p.m.)
Nov. 12-15: Very sunsettled weather sweeps in from the West.
Nov: 20-23: Rain, wet snow exits with drier/clearer conditions for Turkey Day. (Deer gun hunt begins in Wis. Nov. 17-25 … are these good hunting conditions?)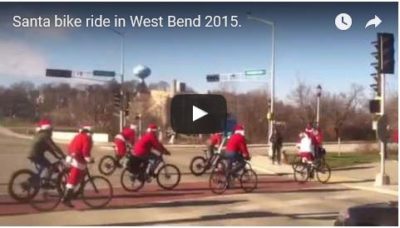 Nov. 24-27: Fair and cold (West Bend Christmas Parade is Nov. 25 and the annual Santa Ramp up bike tour)
Nov. 28-30: Heavy lake-effect snows, half a foot or more in the traditional Snowbelt areas.
December:
Dec. 8-11: Snowy for Wisconsin/Michigan  (Don't forget the Hartford Historic Home Tour is Saturday, Dec. 8 and so is Breakfast with Santa at the West Bend Airport)
Dec. 16 – 19: Gusty winds; snow showers and flurries
Dec. 24-27: Have yourself a messy little Christmas: wintry mix, as mild air from the south overruns cold air from the north.
As far as what's ahead for January 2019. Best to invest in the latest edition of the 'entertaining' Harris Farmer's Almanac.
Graphics above courtesy Harris Farmers's Almanac.