Hartford Union High School production of Little Shop of Horrors nominated for Jerry Award | By Samantha Sali
Dec. 5, 2018 – Hartford, WI – The Hartford Union High School's fall production of Little Shop of Horrors Musical was nominated for the 2019 Jerry Awards.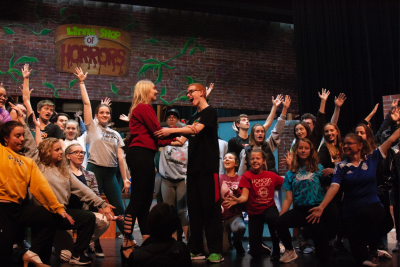 According to the Overture Center for the Arts website, "The Jerry Awards, one of Wisconsin's High School Musical Awards Programs, encourages, recognizes and honors excellence in high school musical theater. The program began in the 2009/10 school year as the Tommy Awards, and was renamed in 2017/18 season to The Jerry Awards after philanthropist and arts supporter W. Jerome Frautschi. Educators and industry professionals review productions at more than 85 high schools in 30 counties around the state providing valuable feedback. The program elevates the importance of musical theater within high schools."
Hartford Union High School students that were involved in the production will be honored at the Overture Center for the Arts, in Madison, this spring, along with the other students nominated from schools across Wisconsin.
In addition, "two outstanding performers are selected to represent the program at The National High School Musical Theater Awards (The Jimmys) competition in New York City.
The Little Shop of Horrors Musical ended up selling 2,000 tickets over five shows in November, selling out closing night. They have received 12 Jerry Award nominations.
"I'm so proud of my wonderful cast, crew, and production team for their hard work and collaboration," said Musical Director, Andrea Moser. "To be recognized as an "outstanding ensemble" is truly wonderful because, in my opinion, that's what theatre is all about!"
The HUHS production was nominated for the following Jerry Awards:
Outstanding Musical
Outstanding Ensemble
Outstanding Lead Performance (Matt Becker as Seymour and Miranda Parker as Audrey)
Outstanding Supporting Performance (Madeline Hoxworth as Audrey II and Jacob Loosen as Orin)
Outstanding Direction (Andrea Moser)
Outstanding Musical Direction (Ernest Brusubardis and Alex Nettesheim)
Outstanding Choreography (Dani Kuepper)
Outstanding Scenic Design (Colleen Boelkow)
Outstanding Costume Design (Darcy Devens and Sandy Wallisch)
Outstanding Lighting Design (Mike Van Dreser)
You can watch the Wisconsin Public Television broadcast of the 2018 Jerry Awards here.