Dec. 5, 2018 – West Bend, WI – A bit of an archeological find this week in downtown West Bend as colorful murals have been uncovered in the balcony level of the Historic West Bend Theatre.
"This is the first exposure and it's the same pattern in each of the red panels," said conservator Brian Fick with Evergreene Architectural Arts. "It's a five-color stencil pattern on a shield shape with two birds; it looks a bit Germanic which, in an art-deco context is a little odd but it kind of suits the area."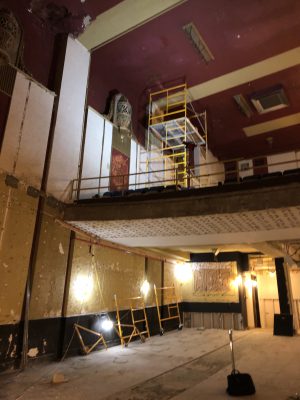 Fick uncovered the mural using solvents and gels. A large breathing apparatus is on the floor next to the dusty theatre seats.
"I knew there was something there because I could see a bit of shadow," he said.
Pointing to the ceiling Fick highlights some of the black lines of another pattern of work.
"This piece will be documented and I'm taking samples," Fick said. "We take the paint from the plaster it's painted on all the way through to the top layer. We then cut that so you see the paint layers in cross section and that can give a better, more accurate representation of what the color was."
Fick walks up the stairs in the balcony and points to another square of art behind some scaffolding.
"The painting that's on these urns and the backgrounds is all original," he said. "It's just very dirty."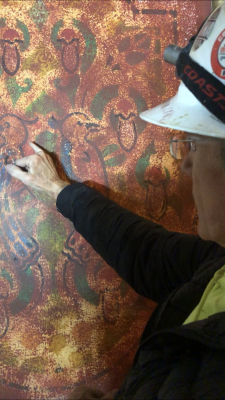 The iconic theatre dates to 1929.
"There are some historic photographs where you can see in black and white some painted decorations you just can't make it out because the photos aren't distinct enough," said Fick. "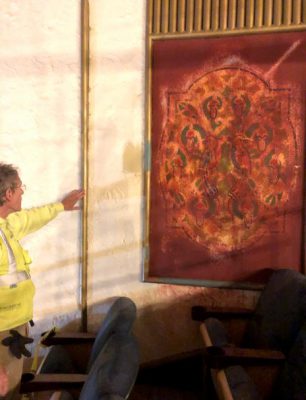 Fick speculates on the reason the murals may have been painted over. "There may have been damage in some area and the thought was 'who would fix this?' Or they just wanted to lighten and brighten the place and they thought the easiest thing to do would be to paint everything a lighter color."
This phase of the research project started Monday and Fick is working through Friday.  A report will be delivered to the theatre board on the mural finding in a couple of weeks.
There are red rectangles below each decorative urn. Fick said the same exact pattern will be unveiled in every block.