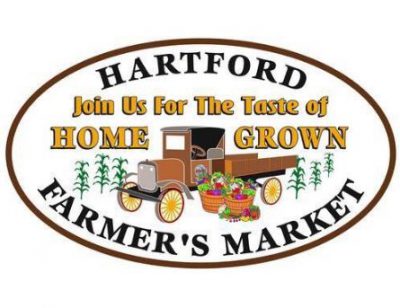 May 14, 2018 – Hartford, WI – Hartford's Farmer's Market will kick off its season Saturday, May 19 at 7 a.m.
Support local vendors by browsing the selection of seasonal produce, fresh-cut flowers, honey, cheese, eggs, beef, chicken, art, and crafts.
The market runs every Saturday through Oct. 27. It is located in the parking lot at Hartford Park and Recreation, 125 N. Rural Street.
If a Saturday market isn't in your schedule, we hope you'll love the brand new Wednesday Farmers' Market.
Starting June 6 shop Hartford's Wednesday Night Market from 4:30 p.m – 7:30 p.m.   It's in the parking lot of the Jack Russell Memorial Library, 100 Park Avenue.
The Night Market will run Wednesdays until Sept. 26.
Graphic courtesy Hartford Farmers' Market