May 13, 2018 – West Bend, WI – The Museum of Wisconsin Art provided a grand backdrop for the 6th annual Banner ArtWalk in West Bend. The event was put on by the Downtown West Bend Association.
More than 40 new banners for 2018 hung from the second-floor railing in the atrium of the museum. Guests toured among the racks of banners from 2016 displayed on the main floor.
A bidding process was used to sell the artwork with all money raised helping to support the project.
The Banner ArtWalk was a new experience for Erika Lauson from Hubertus.  "I like art and we have a membership to MOWA and we thought it would be fun to take my mother-in-law here for Mother's Day," she said. "I like that the artists are local and there's such a variety of ideas in the paintings."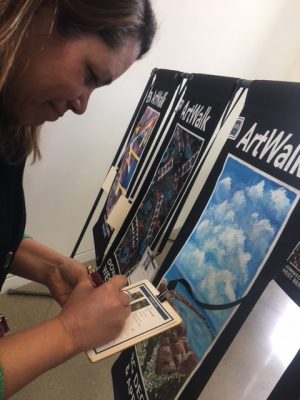 The DWBA and its sponsors also handed out awards this year for the banner artwork.  It was interesting to note that a mother and daughter both walked away with prize money.
First place and $200 went to Deborah-Prahl for her banner titled River Views. Prahl's daughter Anna won $50 for her banner titled Northern Pine.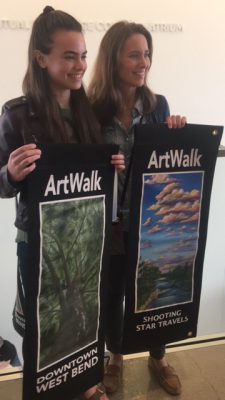 Julie Roth took second place and $100 for her banner titled Parceled I & II.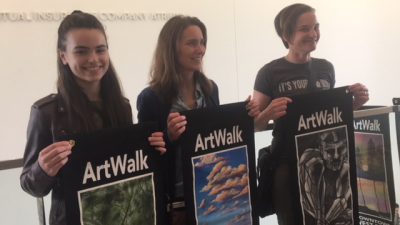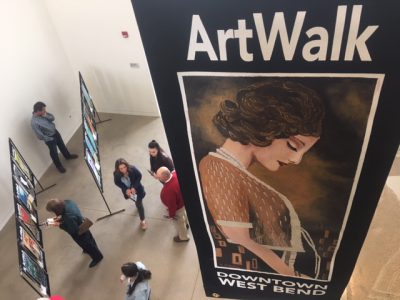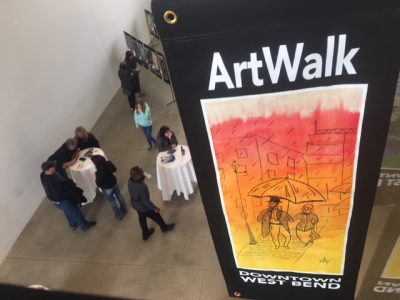 Watch for the banners to be hung on Main Street this week just in time for the start of the Saturday, May 19 Downtown West Bend Farmers' Market.