Hat tip to craftsman Dan Gonwa | By Kine Torinus
February 17, 2020 – West Bend, WI – Dan Gonwa had a good day when the mahogany doors for the Historic West Bend Theatre arrived and were installed.  Gonwa, a native of Washington County and project manager for the restoration of the 90-year-old theatre, has overseen the elaborate project restoration since it kicked off in April 2019.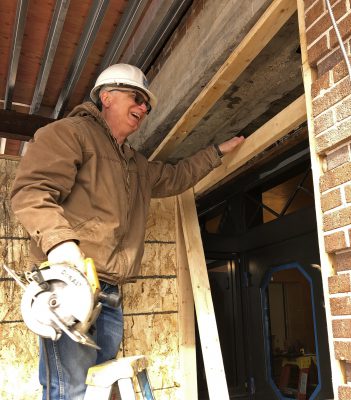 The doors are one of the finishing touches. Craftsmen from 16 different companies have contributed their skills to bring the theatre to life.
Gonwa has been adding beautiful buildings to the Washington County scene since he left machining to go to work for his father several years after his father Norbert, a skilled cabinet maker, bought WB Corp. in 1979 from Pat Bradley.
Among the projects he supervised were the new Commerce Bank building and the restoration of the old Washington County Courthouse and its adjoining jailhouse.
The new doors were re-created by R.J. Wood Industries, a wood working company that recently moved from Jackson to Barton in West Bend. Most of the vendors for the theatre renovation were also local.
As many as 30 craftsmen at a time were buzzing around the theatre; masons, roofers, electricians, plumbers, painters, plasterers, artwork restorers, carpenters, carpet layers and sound experts.
Gonwa orchestrated all those activities like a symphony conductor, along with oversight from Nic Novaczyk, president of Historic West Bend Theatre Inc. (HWBT) and an experienced developer.
MSI General, the design/build firm that managed the restoration, will complete the reconstruction work this month.
The HWBT board has set the grand opening for March 14 when the mahogany doors will open to a concert by the Cory Chisel Band.
Gonwa will be there. He will have a big smile on his face since he and his fellow craftsmen rightfully consider the building itself to be a work of art.
He will probably be sporting a new haircut. He once exchanged his remodeling expertise with his friend Jacci Mazzaalari, a salon owner.
He worked on her house in return for haircuts for life.