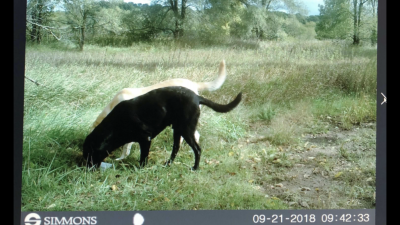 Sept. 23, 2018 – Washington Co, WI – A trail camera in the area of County Road A in Farmington caught a photo of these two dogs on September 21, 2018.
The owner of the picture reached out to ask if was the dogs posted as "missing."
It was Dec. 11, 2017 when Red and Millie walked away from their home.
"We have 23 acres and a lot of woods," said owner Agnes Leider.  "I let them out at 4:30 p.m., came outside 10 minutes later and they were gone."
Since then Leider has been on a quest to find her girls.
She describes them as "hardy dogs" and believes they are able to survive outdoors.
Leider created a Facebook page for the dogs.  A description of the animals is below.
Red and Millie went missing on December 11, 2017. Red and Millie are both labrador retrievers and they disappeared together from our Random Lake, WI residence.

Here is a more detailed description of each:

Red: Yellow lab with stark red topcoat; lighter / whitish hair on her belly, neck and hindquarters; she was wearing a light pink collar and sadly lost her tags and she is not spayed nor microchipped; She was 5 1/2 years old when she disappeared and turned 6 in June. Millie is her momma and the two have never been apart.

Millie: Black lab with white hairs on the side of her face and chin with white some white hairs (not a lot) on her hindquarters and base of her feet (not a lot); she has a slight whitish scar on her snout less than an inch or so shaped a bit like a checkmark; she was wearing a lighter red collar with one of her two tags remaining; She was just shy of her 7th birthday when she disappeared and turned 7 in January. Red is her daughter and the two have never been apart.
Click HERE to read about the history of Millie & Red.
Leider also said "both dogs were in heat when they went missing."
If you have more information please call Leider at 920-447-2250 and help bring Millie & Red home.
Trail cam photo courtesy Ingrid Schmitz Stecker