Feb. 20, 2019 – Jackson, WI – Public speaking is one of the most dreaded things in high schools across the county. Most people hate speaking in front of others. However students with the Kettle Moraine Lutheran's forensics team wrap their arms around public speaking and try to take it to the next level.
What is forensics? KML student Abby Kesting said it's public speaking with a theme. Students are able to choose from a list of categories including: solo acting, play acting, poetry, storytelling, demonstration, four-minute, moments in history, and many more. Each category has unique requirements and scoring guides.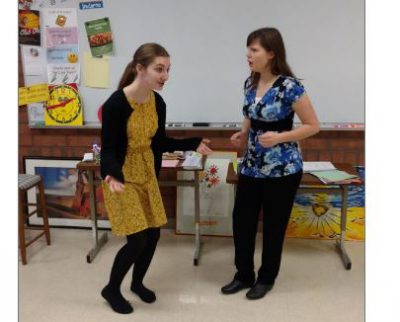 Compared to other extracurriculars, the forensics season is short. KML will participate in the necessary meets, sub-district, district, and state. KML will also participate at the conference meet, and a Lutheran High School meet at Wisconsin Lutheran College. Although the season lasts less than three months, forensics is a great place to improve public speaking skills and make some friends. "You get to meet a bunch of like-minded individuals,"student Amelia Neuwirth said of forensics.
All categories are judged based on 25 points. The goal is to get all 25 points. At each meet, students perform their piece three times, in front of three different judges.
In order to move on from sub-district, a student must get at least two 16s. To move on from district, a student must get at least two 20s.
State forensics is run differently than the other meets. The state meet takes place on the campus of the University of Wisconsin Madison. There, students only do their piece once. Medals are given out afterward; 25 points earn Critic's Choice (gold), 23-24 points earn All State (silver), 20-22 points earn Finalist (bronze), and 5-19 points earn Achievement (small bronze).
As sub-district quickly approaches, students all around Wisconsin are preparing. Students are meeting with their coaches, practicing gestures, and memorizing lines. KML has a unique way of helping their students prepare. On February 16, KML hosted a practice meet for its forensics team. Coaches served as judges, so students were able to perform their piece in front of a judge, and some fellow teammates. This proves to be very beneficial to students, Abby  commented, "It [the practice meet] helps me gauge my time."
After everyone in the room finished their piece, students were able to hang out and enjoy some refreshments.