Holy Angels Students of the Month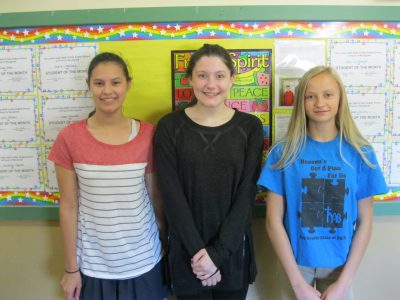 June 14, 2017 – West Bend, WI – Holy Angels Student of the Month May 2017:
 6th – Kaylee Schiller –  Kaylee values honesty, patience and kindness, and these three traits describe her perfectly. Her teachers are impressed with her quiet way of helping those around her as well as her responsible nature. Kaylee is an excellent student who is willing to clarify instructions when necessary and always does her best. She wants to grow up to be an artist or author which will give her a chance to exercise her creative abilities.
7th – Isabelle Sternig – Isabelle is talented in a number of ways. She is passionate about volleyball which she plays very well.  In fact, she hopes to play on an Olympic team some day. She is also an accomplished actress using this skill to place highly in forensics competitions. She enjoys singing as well. In class, Isabelle is a fun but focused teammate and strong leader.  She is very consistent in her effort and achievement throughout all academic areas. 
8th – Jordyn Wedemayer – Jordyn is one of the easiest kids to be around. She is quiet and kind and always willing to help.  Her teachers talk about how much effort she puts into learning. Her work is always carefully done, and she expresses herself well in writing. She is detail-oriented and likes things to look nice. This explains her desire to be an interior decorator when she grows up.  Outside of the classroom, she is a fierce competitor, enjoying both gymnastics and volleyball.
(Left to right: Kaylee, Isabelle, Jordyn)