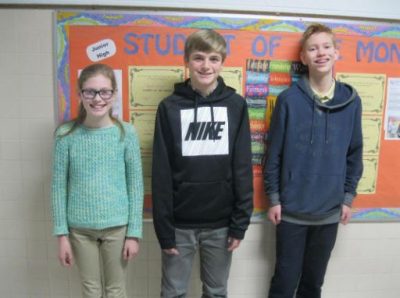 Jan. 2, 2018 – West Bend, WI –  6th Grade:  Megan Minz – Megan likes to describe herself as smart, organized and nice. Her teachers like to describe her that way as well!  She truly displays all the skills of a good student. She pays attention, likes learning, and is very responsible. Teachers love her participation in class. Not only will she usually have the right answer, it's always complete and thoughtful. Megan picks up new skills easily, such as playing guitar in music class. She is good at volleyball and basketball too. She jumped into junior high by joining student council.
7th Grade:  Peyton Fountain – Peyton is a friendly student who works well with others. He has a quiet sense of humor that helps him connect with teachers and peers. Peyton's teachers appreciate his consistent effort. His approach to learning is positive, and shows a strong work ethic. In class, he is always on-task, and willing to ask questions when necessary. His passion is for sports, though, particularly hockey, baseball, basketball and football.
8th Grade:  Ricky Conlin – Ricky is a smart student who's not afraid to speak his mind. He usually has a witty answer. He wanted his teachers to know that including homework time, students at Holy Angels work more hours than a medieval farmer. He is curious and cares about doing well academically. Ricky can be counted on to follow directions and work well in any group. Like many of his peers, he enjoys playing video games. In fact, he says he is interested in computers, coding and other science-related topics. He is a server at school Masses.