Washington County, WI – On Saturday, April 22, 2023, 71-year-old Army/National Guard veteran Alan Melichar of Allenton, WI, will be joining other veterans on the Stars & Stripes Honor Flight along with an appointed chaperone.
Melichar went into the United States Army after being drafted in 1972. He was in the Delayed Entry program and went off to basic training on January 10, 1973.
He chose the Delayed Entry program so he could be home in November to marry his current wife of nearly 51 years, Susan; they were married on November 11, 1972. "She's stuck with me," he said.
Click HERE to SUBSCRIBE to FREE local news at
Melichar served two years of active duty with Battery C, 2nd Battalion, 5th Air Defense Artillery, attached to the 2nd Armored Division, and was discharged on January 9, 1975.
During the time he was living in Rice Lake, WI after his discharge, he enlisted in the Army National Guard and served the Guard for 5-1/2 years. His family then moved to West Bend and he transferred to the West Bend Air Guard where he worked as a Nuclear Chemical and Biological Warfare (NCB) NCO.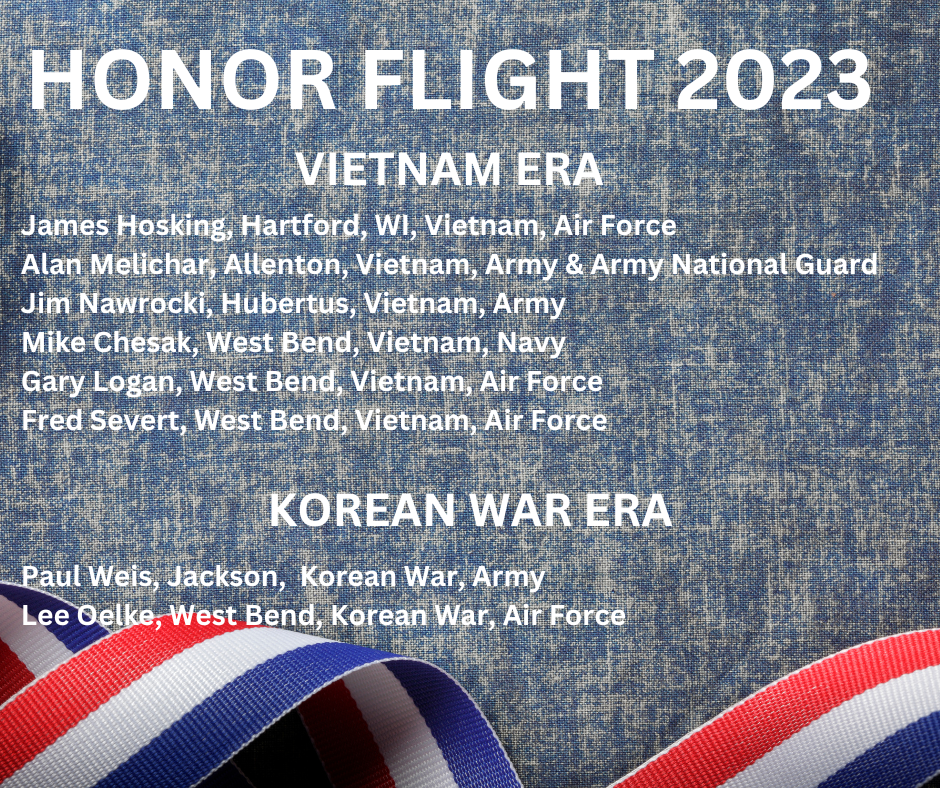 Melichar attended leadership school at Fort Leonard Wood and earned the National Defense Service Ribbon and received the Expert Marksmanship badge.
Alan and Susan have four adult children: Robert, Melissa, Wade, and Shawn, and eight grandchildren. Together they took in numerous children throughout the time they spent in Rice Lake that were in need of a home, guidance, acceptance, and love. They consider these children to be a part of their family as well.
After serving in the Army, Melichar "drove truck all my life." He retired from the Teamsters Union in 2014.
Wade Melichar, Alan's son, will be the chaperone for the Honor Flight. Wade is a US Army Veteran and served in Operation Iraqi Freedom.
Hosking is one of eight veterans from Washington County, WI
going on the April 22, Honor Flight
Melichar is looking forward to seeing the Vietnam Veterans Memorial on the Honor Flight trip. He would like to see Arlington National Cemetery as well.
Ronald Melichar, Alan's brother, was also a veteran having served in the US Marines. He was wounded in Vietnam in 1968 and lived with shrapnel in his leg all of his life. Ronald passed away in 2019.
Melichar is active in Wreaths Across America and is the chaplain at the Allenton American Legion Post. "It will be interesting to see where all the wreaths go in Arlington," he said.
Stars and Stripes Honor Flight is the Milwaukee area hub of the Honor Flight Network.  Founded in 2008, Stars and Stripes Honor Flight has flown more than 7,600 WWII, Korean War, and Vietnam War veterans from southeastern Wisconsin on a one-day, all-expense-paid trip to Washington D.C.